Dr Lynn Drummond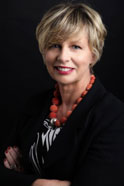 Dr Lynn Drummond is Non-executive Chair for Venture Life Group plc. During her operational career, Lynn was a leading figure in the pharmaceutical and life sciences sectors. She spent 16 years as a Managing Director within Investment Banking for Rothschild. Prior to Rothschild, Lynn worked in the Cabinet Office in London as Private Secretary to the Chief Scientific Advisor.
In addition to her current Non-executive role, she has been Chairman of Trustees for Breast Cancer Haven, was on the University of Cambridge, Centre for Science and Policy Development Group, and has held additional Non-executive Directorships at RPC Group plc, Infirst Healthcare, Shield Holdings AG, Allocate Software plc, Consort Medical plc and Alimentary Health Ireland. Lynn also works as a Board Mentor for Criticaleye.
Lynn holds a Bachelor of Science Degree in Chemistry from the University of Glasgow and a PhD in Biochemistry from the University of London. She is a Fellow of the Royal Society of Chemistry and a Fellow of the Royal Society of Edinburgh.