Researchers - History
The History group at the University of Hertfordshire is recognised as an internationally important centre for historical research.
People
History staff at the University of Hertfordshire form a close, supportive and outward facing group of researchers.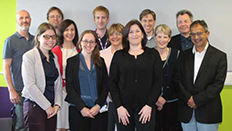 Our research interests are wide, but cluster in four broad groups:
English society in the early modern and long 18th century (Anne Murphy, Jennifer Evans, John Styles, Sarah Lloyd, Owen Davies)
Regional society and cultures (Katrina Navickas, Julie Moore)
Contemporary world history (Tony Shaw, Ciara Meehan, Brian Kennedy)
Public and digital history (Adam Crymble, Peter D'Sena, Pieter Francois)
Read more about our researchers
Research students
We provide a supportive environment for research students.
We foster long-term links with many institutions and societies, who facilitate work experience, archive research and career networking.
These include:
scholarly bodies such as the Institute of Historical Research, Social History Society and Economic History Society.
museums and archives such as the British Museum, Bank of England, Foundling Museum, National Archives, London Metropolitan Archives, and Hertfordshire Archives and Library Service.
local community groups and history societies in Hatfield, St Albans, Stevenage and across the region.
Read more about our:
Projects
We combine the highest level of scholarly research with innovation and communication, particularly in digital, public and regional history.
Our projects seek to reach the broadest possible audience.
The award-winning Old Bailey Online and London Lives have changed the landscape of historical research for both scholars and the general public interested in histories of crime, London, and their ancestors.
Our postgraduate research students produce high quality PhD and Masters research.
We also offer a distinctive professional doctorate in heritage.