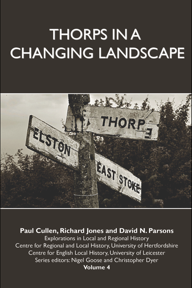 Thorps in a Changing Landscape
Author: Paul Cullen, Richard Jones , David N Parsons
Price: See vendor
"
"Specialists in the history of landscape and rural society may turn to this monograph as an exemplary contribution to knowledge, which defines settlements named with this element as early or late, notes their consistently subsidiary status, and relates them to local geology and soil. It is a fine example of what professional linguists can do as a service for all those involved in historical geography."
Northern History
Ebook formats
About the book
"very readable ... The publication of this book is an important step in enabling us to see how the place names describing human activities help to complete our overall picture of the medieval English landscape ... a welcome pioneering study" Rural History
"This is a book to recommend wholeheartedly, and about which just as wholeheartedly to argue - the hallmark of good, successful research." Susan Oosthuizen, Journal of Medieval Archaeology
"an invigorating read, highly recommended, as much for the new agenda it implicitly sets out for place name studies as for the specific argument concerning the significance of a particular element. It deserves to be on the shelves of all readers of this journal." Tom Williamson, Medieval Settlement Research Group
"The quantity and quality of the illustrations is excellent." Jonathan Kissock, The Local Historian
"as a meticulous detective story it's quite engrossing. For the enthusiast it's a gift! Amply illustrated with a plethora of charts, tables and dotty maps this is a book for both the specialist and the reader with a general interest in place name studies and as such is highly recommended." Barbara Foster, Derbyshire Archaeological Journal
"A complex and subtle body of interdisciplinary work." Rosamond Faith, Oxoniensia
Thorp – or throp in some areas – is a common place-name or part of a place-name in England. A standard explanation of them is that unlike tons, bys and hams, thorps were small villages attached to more important places.
This new study combines the expertise of linguists with archaeological evidence, and also examines the names found in the north and south. It connects the origin of the names with major changes in the landscape between 850 and 1250.
Thorps, far from lying on the fringes of the settled countryside, were important because they helped to revolutionise farming methods. Rather than dismissing them as 'secondary settlements' or dependent hamlets, we need to think about the characteristics that made them distinctive and therefore deserving of the name that they were given.
More about the book

The authors consider the siting of thorps and throps in relation to the landscape and to soil types in particular. Amply demonstrating the value of an interdisciplinary approach to the study of early medieval settlement in England, they are able to draw important conclusions about the changes in farming that swept the country during this period and by association the process of village nucleation.

By examining both the chronology of place-names in thorp and throp and their qualifying elements (notably the presence or absence of personal names), it appears possible to chart both the speed at which arable enterprises farmed in severalty converted to communal cultivation as well as the direction in which the changes spread.

There is a sense of real excitement as many fresh insights are revealed in the course of the book.

Read a sample chapter

About the Author/s:

---
ISBN: 978-1-902806-82-2 Format: Ebook, 240pp Published: Mar 2011
Any questions
Contact us at UH Press if you have any queries or would like to find out more about this book.