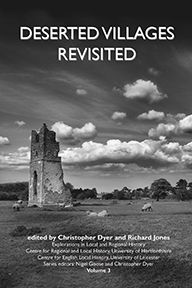 Deserted Villages Revisited
Editor: Christopher Dyer, Richard Jones
Price: see vendor
"
"The issues and questions raised here ... resonate far beyond settlement studies, not least among social and environmental historians ... For its chronological depth, interdisciplinarity, wide-ranging insights and relentless questioning of prescribed knowledge, this collection is to be highly recommended."
Ebook formats
About the book
"Deserted Villages Revisited is challenging and thought-provoking... the papers serve as a clear, considered and well-written distillation of past and current thinking which challenge, without dismissing, the ideas that went before. This volume serves as a neat stepping-stone for an exciting next phase in research of settlement desertion. As Jones and Dyer conclude, there is still much to fascinate academics and the public for years to come." Lucy Ryder, The Archaeological Journal
"An impressive general survey of the development of medieval settlement studies, and of the current state of knowledge about the decline and disappearance of villages and hamlets. Dyer and Jones's introduction and conclusion pull together the main themes adroitly, but the coherence of the volume means that they do not have to exert undue force. The processes and causes of village desertion are now known to have been a good deal more complex than the participants in the 1948 seminar would have envisaged, and this complexity is effectively conveyed and explored. For those who, like this reviewer, regard a copy of Maurice Beresford's Lost Villages of England as an indispensable element in their academic library, Deserted Villages Revisited is an essential, and most worthy, addition." Mark Bailey, Historical Review
"It is a well-constructed book which leads the reader systematically through many aspects of the topic. It redefines and revivifies an area of study which had begun to seem worn out and irrelevant. This is a valuable book for all concerned with the development of the British landscape." Mark Gardiner, Landscape History
The starting point of this book was a meeting in 1948 in Leicestershire when historians and archaeologists visited newly identified sites of deserted villages. The excitement of these discoveries changed approaches to the medieval countryside.
Sixty years later a new group of scholars went back to the same sites and debated their significance in the light of many advances in knowledge.
More about the book

Thousands of villages and smaller settlements were deserted in England and Wales during all periods, though many of them were abandoned between 1340 and 1750.

Why were they deserted? Why did some villages survive while others were abandoned? Who was responsible for their desertion? What can we learn about life in the countryside from a study of the deserted sites?

Since the 1970s these questions have been set aside while interest has shifted to the origin and planning of villages, and the regional differences which led to a 'village England' developing across the middle of the country, while everywhere else people lived in hamlets and individual farms.

Now seems the right moment to return to the subject and with fresh eyes reopen the important questions which were not fully answered in the early days.

In this book ten leading archaeologists, geographers and historians have come together to revisit the deserted villages and reveal much new evidence and new thinking about these fascinating sites.

Read a sample chapter

About the Editor/s:

---
ISBN: 978-1-905313-79-2 Format: Ebook, 233pp Published: Feb 2010
Any questions
Contact us at UH Press if you have any queries or would like to find out more about this book.