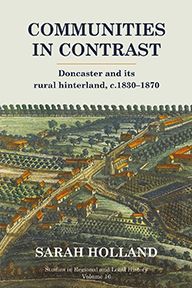 About the book
"This study is a welcome stimulus to thinking and further work on the dynamics and character of rural societies and how they may be researched." Kate Tiller, Family and Community History
"[T]he author has drawn upon very extensive research in local and regional newspapers. This represents a considerable and rewarding investment in research effort since, regrettably, no Doncaster newspapers have yet been digitised." Brian Barber, Yorkshire Archaeological Journal
"The conclusion of this stimulating book is that patterns of landownership alone are inadequate to explain differences between communities. Large landholders may have had considerable power if they chose to exercise it, but others in the community also had influence and even agricultural workers could exercise agency in their own lives." Edward Royle, The Local Historian
"[T]his is a thoughtful and interesting piece of research. It neatly complements the work of Sarah Banks and others in critiquing the open-closed model and further stimulates the ongoing debate about the appropriateness of models of village typology." Martin Watkinson, Landscape History
"This is a stimulating study, offering further nuance to the open and closed villages debate, stressing in particular the interaction of town and country within rural settlements and the importance of leadership rather than landownership in understanding village differentiation. It is especially valuable in that it draws attention to the nineteenth-century history of a rural district that tends to be overlooked, perhaps as a consequence of its proximity to industrial south Yorkshire." Andrew Walker, International Journal of Regional and Local History
This book investigates what a case study of a northern market town and its rural hinterland can tell us about village differentiation, exploring how and why rural communities developed in what was chiefly an industrial region and, notably, how the relationship between town and country influenced rural communities.
It looks at six villages close to Doncaster — Sprotbrough, Warmsworth, Rossington, Fishlake, Stainforth and Braithwell — chosen to represent the diversity of landownership and land type of the Doncaster district.
Rural communities, and more specifically the development of English villages, have proved fertile ground for historians. This book makes an original contribution to these debates. In particular, it engages with existing models of village typology, suggesting that not only are they too restrictive to account for nuanced differences, but also that they fail to acknowledge the importance of the relationships between rural communities and between town and country.
More about the book

Following Sarah Holland's detailed research into different aspects of rural communities, the book offers new perspectives on how rural communities in close proximity developed, often differently, during the mid nineteenth century.

Themes looked at in detail include living and working conditions, agriculture and industry, religion and education, and through these Holland considers existing theories of village typology, before setting out her ideas regarding social hierarchies, spheres of influence and agency, which combine to create complex patterns of differentiation.

Communities in Contrast will appeal to all those interested in rural life and economy in the nineteenth century, the relationship between town and country, as well as the history of Yorkshire.

Read a sample chapter

About the Author/s:
ISBN: 978-1-912260-13-3 Format: Paperback, 160pp Published: Sep 2019
Any questions
Contact us at UH Press if you have any queries or would like to find out more about this book.