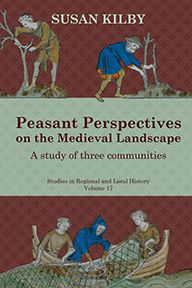 About the book
"Susan Kilby's first book shines a fresh and original light on medieval peasants, applying insights from maps and place-names. She convinces the reader that with an imaginative and careful application of new evidence we can know something of ordinary people's sense of their surroundings and their meaning." Chris Dyer, University of Leicester
"Peasant Perspectives on the Medieval Landscape is essential reading for anyone seeking to understand how medieval peasants viewed and understood the world in which they lived. Kilby's application of an innovative methodology and her reinterpretation of traditional evidence in exciting new ways will, one hopes, encourage future studies of this nature." Alister Sutherland, Journal of British Studies
"Dr Kilby has offered up a richly nuanced and thought-provoking evocation of these medieval landscapes. All who study the countryside of the past, wherever it might be and to some extent whenever, would profit from reading this book, and perhaps having their perceptions challenged and mental horizons widened." Paul Stamper, Landscapes Journal
"[A] compelling book on the nature of medieval peasantry and on the means and mechanisms of being-in-the-world they developed regarding the social construction of landscapes. This study will interest a wide range of specialists on medieval and peasant studies and represents an important historiographical landmark." Carlos Tejerizo-García, Historia Agraria
"[A] highly novel and original study, hopefully paving the way for further similar investigations, both regional and comparative." Philip Slavin, Economic History Review
This compelling new study forms part of a new wave of scholarship on the medieval rural environment in which the focus moves beyond purely socio-economic concerns to incorporate the lived experience of peasants.
For too long, the principal intellectual approach has been to consider both subject and evidence from a modern, rationalist perspective and to afford greater importance to the social elite. New perspectives are needed.
By re-evaluating the source material from the perspective of the peasant worldview, it is possible to build a far more detailed representation of rural peasant experience. Susan Kilby seeks to reconstruct the physical and socio-cultural environment of three contrasting English villages — Lakenheath in Suffolk, Castor in Northamptonshire and Elton in Huntingdonshire — between c. 1086 and c. 1348 and to use this as the basis for determining how peasants perceived their natural surroundings.
More about the book

In so doing she draws upon a vast array of sources including documents, material culture, place-names and family names, and the landscape itself. At the same time, she explores the approaches adopted by a wide variety of academic disciplines, including onomastics, anthropology, ethnography, landscape archaeology and historical geography.

This highly interdisciplinary process reveals exciting insights into peasant mentalities. For example, cultural geographers' understanding of the ways in which different groups 'read' their local landscape has profound implications for the ways in which we might interpret evidence left to us by medieval English peasant communities, while anthropological approaches to place-naming demonstrate the distinct possibility that there were similarities between the naming practices of First Nations people and medieval society. Both groups used key landscape referents and also used names as the means by which locally important history, folklore and legends were embedded within the landscape itself.

Among many valuable insights, this study also reveals that, although uneducated in the formal sense, peasants understood aspects of contemporary scientific thought.

In addition to enhancing academic understanding of the lived experience, this new approach augments our comprehension of subjects such as social status, peasant agency, peasants' economic experiences and the construction of communal and individual memory.

Susan Kilby's groundbreaking study enables us to reclaim significant elements of the environment inhabited and traversed by English people over 700 years ago.

Read a sample chapter

About the Author/s:
ISBN: 978-1-912260-20-1 Format: Hardback, 256pp Published: Mar 2020
Any questions
Contact us at UH Press if you have any queries or would like to find out more about this book.