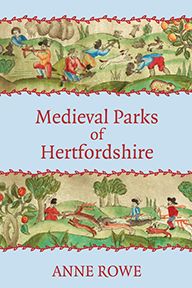 Medieval Parks of Hertfordshire
Author: Anne Rowe
Price: £18.99 (free postage)
"
"It is perhaps the comprehensive gazetteer that will appeal to the majority of landscape and medieval historians. This is well illustrated often using the 1880s 1st Edition Ordnance Survey and the RAF aerial photographs from the 1940s to demonstrate the persistence of features. The large scale format of the book lends itself very well to this degree of detail permitting close scrutiny of the richness of the landscape not afforded by modern maps... Rowe takes a refreshing look at the origins, distribution and functions of early parks and is not afraid to challenge the findings of some well-respected landscape historians."
About the book
"A positive treasure trove of information both on individual parks and on the workings of medieval parklands generally" Essex Gardens Trust
"In many respects it is a model for future local studies" Journal of Historical Geography
"Excellent and beautifully produced" The Local Historian
"To create such a comprehensive regional overview based on evidence at the individual site level and gleaned from enquiries into local, regional and even national archives, requires patience, inspiration, dedication, and tenacity" Journal of Rural History
To date, over seventy medieval parks have been identified in Hertfordshire – a large number for a relatively small county.
In this ground-breaking study of parks created in Hertfordshire between the eleventh and the fifteenth centuries, author Anne Rowe has adopted a holistic approach to landscape history.
The geographical locations of the parks have been determined and, in most cases, mapped using a combination of field- and place-name evidence, old maps and detailed fieldwork.
The documentary history for each park has been compiled, including, where available, details from manorial accounts, which provide an insight into park management in medieval times.
All the data for each park is presented in a valuable gazetteer, together with the cartographic and field evidence which has been used to locate the parks in today's landscape.
More about the book

In addition, Anne Rowe has carried out detailed analysis of the parks and their owners and explains how the parks related to the physical and social geography of the county in medieval times.

There was a marked difference in the numbers of parks in different parts of the county: the density of parks in the east was double that in the west.

The underlying reasons for this pattern are explored, focusing in particular on the unusual relationship between the distribution of the parks and the distribution of woodland in the county at Domesday.

Based on an enormous amount of original work, this meticulously researched book opens a window onto medieval Hertfordshire and illuminates a significant aspect of the county's landscape history.

Read a sample chapter

About the Author/s:
ISBN: 978-1-912260-10-2 Format: Paperback, 272pp Published: Mar 2019
Any questions
Contact us at UH Press if you have any queries or would like to find out more about this book.