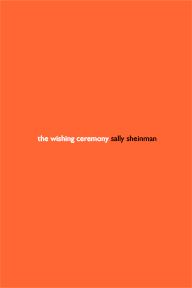 About the book
'The Wishing Ceremony' installation consisted of six brightly coloured booths.
The viewer was invited to step inside a booth and make a wish. Inside they found a selection of 'wishing tokens', hand-painted and intended to inspire wishes.
After looking at and handling the tokens, the viewer left a handwritten wish of their own, anonymously sticking it on the wall of the booth.
Over the course of the exhibition, the wishes built up, and were then recorded by the artist once the show closed, preserved as part of the artwork.
More about the book

Visitors to the piece could unleash their most secret desires and simultaneously read and absorbed the intimate longings left behind by others. Such sharing of secrets can be profoundly moving and is increasingly valued as a way to appreciate our common humanity (see, for instance, the website http://postsecret.blogspot.com/).

Hope is a key theme in all of Sally Sheinman's work, as is spirituality. In 'The Wishing Ceremony', you stepped into the booth for a while and left a part of yourself behind, but in making your wish, you also took away with you a little hope.

This book is a record of the installation, including all the wishes.

"I wish mum let me haf a dog"

"I wish I could tell him how I feel"

"I wish my sister could walk"

"I wish people would stop bullying me about my dumbo ears"

"I wish everyone's wishes could come true"

Illustrated throughout in colour.

Sally Sheinman was born and grew up in the USA. She received a BA Degree from the State University of New York at Albany and undertook postgraduate studies at Hunter College, New York City where her tutors included Tony Smith and Robert Morris. Sally has lived in the UK for the last 20 years. She is a prolific painter and committed to a rigorous work schedule. Her recent exhibitions include Sacred Vessels (Rugby Art Gallery and Museum, Rugby, 2003), Days (The Gallery, Stratford-upon-Avon, 2002), The Naming Room (Roadmender, Northampton, 2001), Fragments of Time and Thought (Liberty, London, 2000), Artjongg (University College, Northampton, 1999), Between the Lines (Ikon Touring, Birmingham, 1997) and New Work (City Gallery, Leicester, 1995).
ISBN: 978-1-898543-99-2 Format: Paperback, 32pp Published: Jan 2006
Any questions
Contact us at UH Press if you have any queries or would like to find out more about this book.