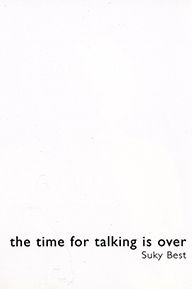 About the book
On a huge poster three giant figures, lifted from a 1950s holiday postcard looked away from us.
The print colours saturate, bleed and overpower; contrasting with the image itself which is straight and still. Static and frozen in time, these larger than life figures expressed a longing for protection and a change in the course of the events, which shape their lives.
More about the book

In the rest of the Margaret Harvey Gallery, St Albans, similar figures, now in miniature, formed narratives in strip-like sequences. The holiday postcard has been re-photographed, dissected and re-framed to imply the passing of time and the possible creation of new stories. Close-ups and details from the cards invoked vital clues and mundane diversions.

Best's use of montage, referencing artists such as John Baldessari and John Stezaker, invested the commonplace, the domestic and the mundane with an intensity and drama which invited the viewer to investigate and to impose individual interpretations on the imagery.

Each of Best's sequences was made from one still image sharing a theme with the work of film maker Chris Marker's La Jettée, a short narrative film made from still images.

As in earlier projects such as 'Inadmissible Evidence', 'On the Beach', and 'On the Promenade', Best looked at the many ways an image can be cut, pasted, interpreted and adapted, highlighting preoccupations such as surveillance, interpretation and context which are absolutely central to modern experience.

Suky Best teaches at Central Saint Martins. She has had solo shows at the Centre for Photography, Amsterdam; Street Level Gallery, Glasgow; Focal Point Gallery, Southend-on-Sea; The Photographers Gallery, London and The British Council Gallery, Quito, Ecuador. She is a visiting tutor at the Royal College of Art in Photography and Computing, and on the MA in Photography at the London College of Printing. She lectures at various colleges around the UK, and has also run workshops at the International Centre for Photography in New York. She has published four solo publications three in conjunction with the Festerman Press, and the last as a collaborative project with make magazine.

About the Author/s:
ISBN: 978-1-898543-45-9 Format: Paperback, 20pp Published: Jan 2000
Any questions
Contact us at UH Press if you have any queries or would like to find out more about this book.