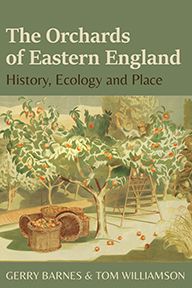 About the book
"… supremely well-written and intriguing…" Terry Mabbett, Forestry Journal
"As David Lowenthal wrote, 'the past is a foreign country' and, as such, it is implicitly hard to decipher. To journey back into this foreign place and thus to understand its history, evolution and even decline requires a multi-disciplinary approach, as demonstrated in this book so effectively by Barnes and Williamson. Finally, the book is lavishly illustrated with numerous full-colour plates and at £16.99 is excellent value." Ian D. Rotherham, Landscapes Journal
"Throughout the authors demonstrate their practical knowledge and enthusiasm for orchards, and have clearly delighted in their exploration of a rich but under-researched field." Michael Leach, The Local Historian
"This is an impressive book which, in general, wears its wide-ranging and deep scholarship relatively lightly, to the great benefit of the reader." Andrew Walker, International Journal of Regional and Local History
"There is so much information here for local and landscape historians, social and economic historians, horticulturists, ecologists and anyone with any degree of interest in orchards. The curious can plunder the bibliography in search of further reading, for whether read straight through from start to finish or dipped into to peruse selected chapters, this book is a wellspring of information to bolster the current resurgence of interest in orchards and fruit varieties. It sets the bar dauntingly high for future regional orchard studies." Susan Wilkin, Agricultural History Review
"This book dives into the specific density of its topic with such rigor that, rather than closing the subject to future investigation, its intellectual framework opens up the possibility of new works on orchards everywhere and suggests new questions to investigate in light of the wealth of data presented about eastern England." Maria Elizabeth Kennedy, Agricultural History
Although the history of orchards and fruit varieties is of great popular interest, there have been few academic treatments of the subject. This book presents results from a three-year project, 'Orchards East', investigating the history and ecology of orchards in the east of England.
Together, the eastern counties of Hertfordshire, Essex, Cambridgeshire and Huntingdonshire, Bedfordshire, Norfolk and Suffolk have a tradition of fruit cultivation comparable in scale to that of the better-known west of England.
Drawing on far-reaching archival research, an extensive survey of surviving orchards and biodiversity surveys, the authors tell the fascinating story of orchards in the east since the late Middle Ages.
Orchards were ubiquitous features of the medieval and early modern landscape. Planted for the most part for practical reasons, they were also appreciated for their aesthetic qualities.
By the seventeenth century some districts had begun to specialise in fruit production - most notably west Hertfordshire and the Fens around Wisbech. But it was only in the 'orchard century', beginning in the 1850s, that commercial production really took off, fuelled by the growth of large urban markets and new transport systems that could take the fruit to them with relative ease.
More about the book

By the 1960s orchards were extensive in many districts but, since then, they have largely disappeared, with significant impacts on landscape character and biodiversity.

For well over a century now, orchards have been romanticised as nostalgic elements of a timeless yet disappearing rural world. Even before that, they were embedded in myths of lost Edens, or golden ages of effortless plenty.

A key aim of this book is to challenge some of these myths by grounding orchards within a wider range of historical and environmental contexts.

Orchards are not timeless, and in some ways our relationship with orchards is a classic example of the 'invention of tradition'. What do our attitudes to this aspect of our heritage tell us about our wider engagement with the past, with nature, and with place?

Read a sample chapter

About the Author/s:

---
ISBN: 978-1-912260-42-3 Format: Paperback, 270pp Published: Jul 2021
Any questions
Contact us at UH Press if you have any queries or would like to find out more about this book.