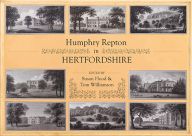 Humphry Repton in Hertfordshire
Documents and landscapes
Editor: Susan Flood, Tom Williamson
Price: £25 £18.75 (free p&p)
"
"In short, the book is an object lesson in the presentation of local history, with its combination of considerable investigation and research by local experts and authors who are knowledgeable in garden history more widely. The introduction in particular sets Repton in a national context as well as a specifically Hertfordshire one. It is therefore of equal interest to those based in, or particularly interested in, the county and those who are interested in Repton and landscape design generally. At £25 it represents unbelievably good value."
About the book
"Well researched and richly illustrated, in a way which foregrounds the documentation of Repton's commissions, in texts, correspondence, estate accounts and sale catalogues, as well as a repertoire of visual sources, Repton's drawings and prints, also contemporary views and maps, and subsequent ones too, like Tithe maps, Ordnance Survey plans and photographs, which reveal the extent to which Repton's work was realised on the ground." Stephen Daniels, Landscape History
"This splendid volume is a fitting and timely record of Repton's landscape work in no fewer than 18 Hertfordshire locations… No expense has been spared to make this one of the most attractive and impressive volumes produced by the Press… Its price of £25 is a bargain for such a lavish production…" Ruth Jeavons, Herts Past & Present
"Hopefully this scholarly but accessible book will inspire other counties to follow suit, celebrating Repton's enduring influence on the English garden, whilst drawing attention to those landscapes which need our help to survive." Laura C. Mayer, Landscapes Journal
2018 marked the bicentenary of the death of Humphry Repton, one of the most important and prolific of English landscape designers.
Repton made a particularly significant contribution to the landscape of Hertfordshire, working at no less than eighteen places in the county, ranging in size from great mansions like Cashiobury and Panshanger to more modest 'villas' owned by wealthy businessmen and industrialists, such as Wood Hill in Essendon.
This book – the fruits of many years of research by members of the Hertfordshire Gardens Trust Research Group – describes in detail all of these commissions, assessing in each case the extent to which Repton's ideas were actually implemented and how much survives of them on the ground today. Particular attention is given to those places for which Repton prepared one of his famous 'Red Books', such as Tewin Water, Lamer House, New Barnes and Wall Hall. But sites where Repton's contribution is less well documented are also discussed, including Organ Hall and Hilfield House in Aldenham, Cashiobury Park and The Grove in Watford, Brookmans Park, Bedwell Park, Wyddial Hall, and Marchmont House in Hemel Hempstead.
In all cases, the book presents complete transcriptions of all the key documents relating to Repton's activities, including the full text of seven Red Books.
More about the book

The introductory essay by Tom Williamson sets Repton's activities in Hertfordshire within the wider context of his career, and also shows how his work in the county can cast important new light on his style, and on its economic, aesthetic and ideological implications.

Profusely illustrated in colour with reproductions of all the Red Book watercolours, together with extracts from contemporary estate maps, sketches and other material, this scholarly yet readable volume will be of considerable interest to garden historians, landscape historians, and all those interested in Hertfordshire's rich historic heritage.

Read a sample chapter

About the Editor/s:

---
ISBN: 978-1-909291-98-0 Format: Hardback, 304pp Published: Mar 2018
Any questions
Contact us at UH Press if you have any queries or would like to find out more about this book.