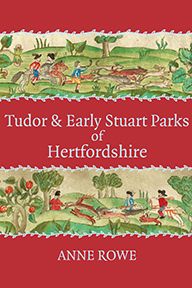 Tudor and Early Stuart Parks of Hertfordshire
Author: Anne Rowe
Price: £18.99 £14.24 (free p&p)
"
"The county case study approach to the investigation of parks was pioneered by Leonard Cantor in the 1970s, but has been taken to a new level here by the author's thorough and meticulous approach to the evidence. When this book is placed alongside its companion, Hertfordshire must now surely rank as the most-studied English county as far as deer parks are concerned. Rowe's achievement has been to provide a model of how this kind of work should be undertaken and it sets a standard for others to follow."
About the book
"This beautifully produced book will be of interest to landscape and garden historians." Margaret Willes, Times Literary Supplement
"This continues Rowe's 2009 volume on Hertfordshire's medieval parks, maintaining its excellence." Paul Stamper, British Archaeology
"Released nearly a decade after the author's Medieval Parks of Hertfordshire, it is as thorough and beautiful as its predecessor. Rowe has produced another well-researched regional landscape history, interrogating a range of archive and secondary texts to present new insights and raise new questions… If only such a book existed for all counties." Eloise Kane, Agricultural History Review
"For those readers interested in the history of parks, hunting, and early modern landscapes, this volume will be an essential addition to their shelves. But it is more than that. Parks were status symbols, taking potentially valuable land and restricting access to it and to its resources. They marked the owner as a man of importance – and often of ambition. They were integral to the lifestyle of gentlemen, aristocrats, and royalty, and so for anyone studying the early modern period, this book will provide an invaluable insight into many aspects of that society." Fiona Beglane, Journal of British Studies
"[T]he extensive introduction is [a] tour de force and will be of interest to a much wider audience, beyond garden historians. It is very much a book of reference and valuable for solving landscape mysteries elsewhere." David Whitehead FSA, The Local Historian
"It is impressively rich, rewarding and readable, combining breadth of vision with an astonishing amount of intriguing information." Ruth Jeavons, Herts Past & Present
"This sumptuous but reasonably priced book is a model for how to present a project on a specific county." Evelyn Lord, CALH Review
"In conclusion, anyone with an interest in understanding the place of the park in the early modern period should own a copy of this book. Its price makes it easily affordable, and whether you are a native of Hertfordshire or not, there is much to be learnt about how to interpret and record the parks of a county from one of the acknowledged experts of the discipline." Spencer Gavin Smith, Landscape History
"Altogether the book is a very significant resource for Hertfordshire landscape historians, and one can only cast envious glances at its existence from over the border in Essex! The author's industry and knowledge are truly impressive. The production quality by the University of Hertfordshire Press, supported by a generous grant from The Marc Fitch Fund, must also be loudly applauded. The price of the book at under £20 makes it an absolute bargain. One can only hope that it will provide encouragement to scholars to undertake similar work on our own larger county of Essex, even if that has to be park-by park in the first instance, along the model provided by this volume's gazetteer." Chris Thornton, Transactions of the Essex Society for Archaeology and History
This book forms a continuation of the research published in Medieval Parks, Anne Rowe's highly regarded volume of 2009. Now she turns her attention to the deer parks that existed in Hertfordshire during the sixteenth and early seventeenth centuries.
Drawing on the earliest county maps, most notably those produced by Saxton in 1577 and Norden in 1598, and both State papers and estate records, Anne Rowe builds a detailed picture of Hertfordshire's Tudor and Early Stuart parks.
At least 70 parks existed in Hertfordshire at various times between 1485 and 1642, but for only 46 of those parks is there evidence that they contained deer at some point during the period. These confirmed or probable deer parks form the focus of this study.
Of course not all of them were sixteenth-century creations: less than one-third were 'new' parks, the remainder had been in existence for much longer, in one or two cases being recorded in Domesday Book.
More about the book

In the first part of the book detailed evidence for who created and owned the county's parks and how they were used and managed is given. The dawning of design in Hertfordshire's park landscapes is also explored.

Part 2 gives an account of the presence of the Tudor and early Stuart monarchy in Hertfordshire. Several monarchs and members of their immediate families spent significant periods in Hertfordshire and played a notable part in the history of its parkland; indeed, by 1540 Henry VIII held about 70 per cent of the parkland in the county.

Part 3 is a gazetteer in which each entry brings together the documentary, cartographic and occasional field evidence available for a park, with a map showing its probable extent in the period covered.

At this time hunting continued to be the most popular leisure activity, as it had been for centuries. Wealthy landowners enjoyed a range of hunting activities essentially unchanged from the medieval period, including deer- and hare-coursing on foot, falconry, fishing and wild-fowling. But the pursuit of a stag or buck on horseback accompanied by a pack of hounds was considered the noblest hunting experience.

Based, like the first volume, on an enormous amount of original work, this meticulously researched book opens a window onto Tudor and early Stuart Hertfordshire and once again illuminates a significant aspect of the county's landscape history.

Read a sample chapter

About the Author/s:
ISBN: 978-1-912260-11-9 Format: Paperback, 304pp Published: Mar 2019
Any questions
Contact us at UH Press if you have any queries or would like to find out more about this book.