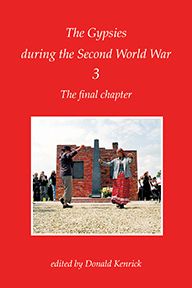 About the book
The concluding part of an important three-volume series examining the persecution of the Gypsy people during the Second World War.
Volume 3 continues where Volume 2 left off and deals with the fates of those in countries not yet explored, including Hungary, Slovakia, Switzerland, Yugoslavia and the former Soviet Union. The measures against the Gypsies in Norway are also dealt with.
The second part of the book gives an overview of what happened after 1945 — reparations, the post-war trials of the perpetrators — and considers the intertwined fates of the Jews and the Gypsies. How the Holocaust is researched and written about by historians (including Holocaust denial) is discussed and a postscript looks at the uncertain future of the Roma in the Europe of today.
Contributors include Henriette Asséo, Milena Hūbschmannová, Thomas Huonker, Valdemar Kalinin, Katalin Katz and Michael Zimmermann.
ISBN: 978-1-902806-49-5 Format: Paperback, 288pp Published: Jul 2006
Any questions
Contact us at UH Press if you have any queries or would like to find out more about this book.