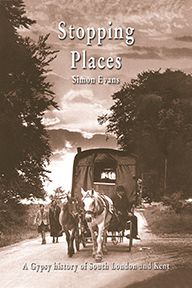 Stopping Places
A Gypsy history of South London and Kent
Author: Simon Evans
Price: £14.99 (free postage)
"
"I cannot recommend this book enough to anyone with an interest in Gypsy life and history. Wonderful photos. I was delighted to hear all the quotes … A true account of a lifestyle that was snatched from under our feet."
About the book
Stopping Places was shortlisted for the Katharine Briggs Folklore Award 2005
The county of Kent, the "Garden of England", was also the market garden for London.
The regular round of seasonal work — picking hops, fruit-picking and gathering peas, beans and other crops — attracted families of Gypsies who returned to the same encampments and worked on the same farms from one generation to the next.
More about the book

Stopping Places gives vivid first-hand accounts of the traditional life of these Gypsies, living in bender tents and horse-drawn wooden vardos, until the mechanisation of farming began to reduce the need for casual labour.

At the same time, life on the road was becoming increasingly difficult because the traditional stopping places were disappearing. Eventually a whole way of life was swept away, often violently, and the Gypsies were forced to live "on the verge" or on officially designated council camp sites.

Increasingly, the ultimate fate of many Gypsies today is to make the traumatic transition from a nomadic lifestyle to enforced settlement in houses.

The events in South East England recounted here, with over 170 stunning photographs, mirror the experience of Travellers across the United Kingdom.

About the Author/s:
ISBN: 978-1-902806-30-3 Format: Paperback, 176pp Published: Oct 2004
Any questions
Contact us at UH Press if you have any queries or would like to find out more about this book.