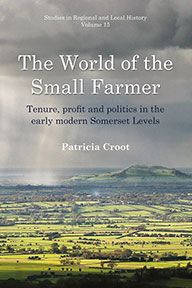 The World of the Small Farmer
Tenure, profit and politics in the early-modern Somerset Levels
Author: Patricia Croot
Price: £18.99 £15.19 (free p&p)
"
"This is a substantial, innovative and thought-provoking contribution to the history of agrarian development, regional history and the lives and choices of ordinary people in a decisive and tumultuous period of England's past."
About the book
"Beautifully presented by the University of Hertfordshire Press, this is another valuable addition to a very fine series on regional and local history. It is to be hoped Croot's substantial and significant archival work will now reach a much wider audience than before." John Reeks, The Seventeenth Century
"Rich in its use of source materials, and equally as much about the farmers and their families as their economic activity, this will be a key text for those interested in the exploitation of wetlands elsewhere as well as for those with an interest in Somerset and the south-west." Paul Stamper, Landscapes Journal
"Fully describes a species of rural economy that has attracted little attention since the pioneering work of Joan Thirsk on Lincolnshire nearly seventy years ago. I hope it brings the present-day inhabitants of Somerset as much pleasure as it will bring Dr Croot's professional peers." Prof Richard Hoyle, Journal of British Studies
"This book brings [Croot's] extensive and detailed archival research to a wider audience. Affordably priced and attractively produced, it provides an important contribution to our understanding of the rural landscape, landholding and economy in early modern England." John S Lee, Landscape History
"This is an important book which will repay a detailed reading thanks to its meticulous archival research and grounding in the local and regional context. By elucidating the experiences of small farmers on the Somerset Levels, Croot has provided a valuable reminder that historians of early modern English agriculture too often and misguidedly assume the superiority of large‐scale farming." Joshua Rhodes, The Economic History Review
"[A] superbly readable thesis" The Greenwood Tree
This detailed and original study of early-modern agrarian society in the Somerset Levels examines the small landholders in a group of sixteen contiguous parishes in the area known as Brent Marsh.
These were farmers with lifehold tenures and a mixed agricultural production whose activities and outlook are shown to be very different from that of the small 'peasant' farmers of so many general histories. Patricia Croot challenges the idea that small farmers failed to contribute to the productivity and commercialisation of the early-modern economy.
While the emergence of large capitalist farms was an important development, these added to the production of existing small cultivators, rather than replacing them. The idea that only large-scale, specialized farmers were involved in agricultural progress, or that their contribution alone was enough to account for the great increase in food production by the late 17th century is questioned; small farmers continued to make a living, contributed to the market, and survived alongside the new, bigger farms.
More about the book

Croot's in-depth study not only adds to our knowledge of agrarian society generally, but shows that far from being backward and interested primarily in subsistence farming, small producers in this area sought profit in making the best use of their resources, however limited, being flexible in their production and growing new or unusual crops.

The main land tenures, copy and lease for lives, are also covered in detail, contributing to current debates on landholding and sub-tenancy. The author shows the uses to which lifehold tenures could be put, resulting in the increasing financial strength of copyholders and their dominance in local society.

The effects of the tenure and profits of farming can be seen in the way that families were provided for, as well as in the roles that women played and the responsibility they had in economic and social life, while the wider interests of the inhabitants are shown in their religious and political engagement in events of the 17th century.

Patricia Croot's meticulous study is a valuable contribution to English agrarian history, and in particular to the history of this under-researched region.

Read a sample chapter

About the Author/s:
ISBN: 978-1-909291-87-4 Format: Paperback, 240pp Published: Nov 2017
Any questions
Contact us at UH Press if you have any queries or would like to find out more about this book.