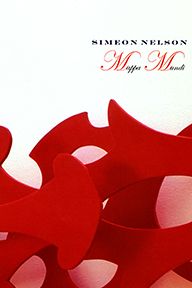 About the book
Sculptor Simeon Nelson's exhibition project 'Mappa Mundi' looked at human attempts to define, order and classify nature thought the ages, and questioned how man's understanding of the natural world has evolved in relation to the changing fashions of scientific and artistic enquiry.
More about the book

For Nelson, the 'mental map' that each of us constructs to define our position in relation to the world is an important metaphor and a useful key to understanding his work. His artworks attempt to re-establish harmony between man and nature.

Combining an intuitive sense of form with anthropological research, Nelson attempts to convey the world as he sees it - a non-European with overlapping interests in ornamental systems as diverse as Maori facial tattoo and Jacobean decoration.

The reworking of minimalist forms in a highly ornamental way articulates a critique of the banality of purist abstraction and the tendency of such (masculine) abstraction to ignore more emotional, embodied (feminine) aspects of experience.

This book is fully illustrated throughout with colour photos of Nelson's beautiful and intriguing sculptures.

Simeon Nelson was born in the UK but educated in Australia where he studied sculpture at the National Art School. He is currently a Senior Lecturer in Sculpture and Spatial Design at the University of Hertfordshire. He is also a Fellow of the Royal Society for the Arts.

About the Author/s:

---
ISBN: 978-1-898543-93-0 Format: Paperback, 40pp Published: Jul 2005
Any questions
Contact us at UH Press if you have any queries or would like to find out more about this book.