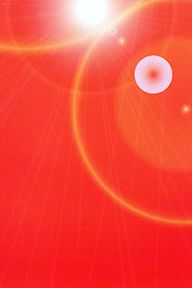 About the book
Ella Bissett Johnson is an innovative digital artist, designer and lecturer often working collaboratively to make cutting-edge artworks that span many contexts (gallery, public and private spaces).
For 'The Last Judgment' she produced a site-specific installation for the Hatfield Art & Design Gallery's front window - a digital print on plastic which resembled stained-glass - consisting of a contemporary rendering of Michelangelo's fresco from the Sistine Chapel, The Vatican.
Unlike Michelangelo, the characters were not taken from any religious context but were the faces of contemporary culture from the worlds of film, popular music and sport as the artist is concerned with exploring the role and deification of the celebrity in today's society.
ISBN: 978-1-898543-94-7 Format: Paperback, 12pp Published: Jan 2005
Any questions
Contact us at UH Press if you have any queries or would like to find out more about this book.