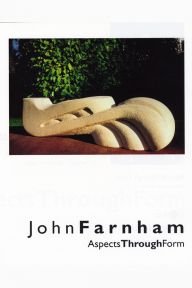 About the book
Sculptor John Farnham works primarily in British stone and bronze. He describes his work as semi-abstract.
The themes of his work are mainly figurative, but depicted in various abstract forms that are determined by mood, materials and the idea he is trying to convey.
As well as the figurative elements, he takes inspiration from shapes, shadows and objects that surround him.
He says of his work, What I mainly try to do when creating a sculpture, is to convey a feeling of strength emanating from within the piece, reaching out and drawing people to it. I like to make people want to touch it, maybe receive the same feeling that I experience when creating it.
More about the book

Farnham grew up in Hertfordshire, virtually next door to Henry Moore, became his assistant in 1965 and still works for The Henry Moore Foundation today.

Farnham's works are mainly about detail: some small carefully considered section of the human figure is isolated and placed in an unexpected context, sometimes overtly figurative, more often reinterpreted as natural form or landscape.

The works in this exhibition at the Art & Design Gallery, Hatfield showed a range of Farnham's interests with an emphasis on depictions of hands, a subject he has returned to time and again over the last thirty years.

He achieved a delicate balance between form and subject matter with a clear fascination for texture. His finishes varied from coarseness to high polish and focused on the touch and flow of the object.
ISBN: 978-1-898543-66-4 Format: Paperback, 12pp Published: Jan 2002
Any questions
Contact us at UH Press if you have any queries or would like to find out more about this book.