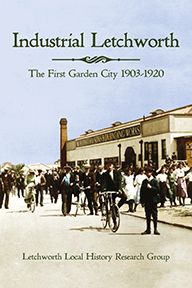 About the book
"This is a very well-produced and attractive book written by five members of the Letchworth Local History Research Group, with contributions from another six, and edited by Janet Capstick and Philippa Parker, who should all be congratulated on an excellent production." Chris Barney, Industrial Archaeology Review
"Excellently illustrated throughout with a bibliography I would recommend this book to the local historian and anyone with connections to Letchworth. It is a valuable addition to the history of the town." Jane Tunesi, Hertfordshire People
In spite of being named the first 'Garden City', Letchworth was conceived as a model industrial town built on enterprise and employment.
Never intended to be merely a pleasant place to live, it needed to be large enough to encourage the mass movement of manufacturers and their employees from overcrowded cities and to function as a self-supporting new town.
In this richly illustrated account, Letchworth Local History Research Group look in detail at the town's foundation in the early 1900s and the energetic organisation and administration that enabled it to get off the ground quickly and successfully.
Based on new research into a wealth of source material, the book puts to rest some of the enduring myths about the garden city, revealing a nuanced picture of the founding of a working community.
The collaborative efforts of First Garden City Ltd (FGC), the development company for the new town, are a key focus.
More about the book

Extremely well-connected, experienced and highly influential, the senior management of FGC (including Ebenezer Howard), together with a team of engineers as well as architects Barry Parker and Raymond Unwin, were able to provide key infrastructure and sites for development in keeping with a clear strategy.

Naturally there were challenges and the need for capital to maintain momentum posed considerable difficulties. But strong leadership saw the fledgling town through some tough periods, including the first world war.

The second part of the book comprises a detailed gazetteer of the industries that established themselves in Letchworth in its early years, with rare archive photographs showing both premises and workers.

From printing and publishing, to motor manufacture, foundries, clothing and pioneering cinematic companies, the story of Letchworth's early industry is lively and unique.

About the Author/s:
ISBN: 978-1-912260-28-7 Format: Paperback, 144pp Published: Mar 2021
Any questions
Contact us at UH Press if you have any queries or would like to find out more about this book.