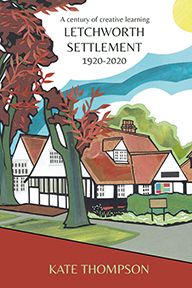 Letchworth Settlement, 1920–2020
A century of creative learning
Author: Kate Thompson
Price: £9.99 (free postage)
"
"This book is a fascinating read for anyone interested in the history of lifelong learning, often just seen as a modern phenomenon. It shows the value of keeping archives and the minutiae which can be found in them. It also illustrates what can be achieved when individuals share their knowledge. Finally, it is a credit to the Settlement that so many people (over 100) have supported the publication of this centenary volume, and a testament to its relevance. May it be an inspiration to others to document their own organizations' past and ensure that it is preserved for the future."
About the book
"Excellently illustrated throughout from the Settlement Archive, held either at The Garden City Collection or at The Settlement, newspapers and other key resources, each chapter is enhanced by illustrations and endnotes. There is also a bibliography and index. A valuable addition to the bookshelves and of interest to historians and educationalists." Jane Tunesi, Hertfordshire People
"Attractively presented and full of illustrations from the Settlement's own archive, not to mention 10 colour plates and original front cover artwork by former resident, Vanessa Stone, this book is a real celebration of a hundred years of the Settlement, an independent adult education centre. Kate Thompson, our former Hertfordshire county archivist, is well qualified to distil such a mass of material into a lively, readable and interesting account." Ruth Jeavons, Herts Past & Present
"Kate Thompson has trawled a range of sources such as record books, newspapers, minutes and scrapbooks to provide a fascinating picture of a type of educational service that receives nothing like the attention of other institutions. The overall impression is of a high-quality facility serving a non-metropolitan community with dedication and fervour. That it has survived 100 years to justify this publication is a testament to the vision, passion and resilience of a band of people who deserve not to be forgotten." Tim Lomas, The Local Historian
"This book will be of interest to historians of education particularly as a case study of the Settlement movement in Britain and also because of Letchworth's position as the world's first garden city. Kate Thompson, local historian and archivist, has produced an accessible, readable and engaging historical account. The book is well-illustrated, with both colour and black and white photographs, and yet modestly priced." Andrew Jenkins, History of Education Researcher
Letchworth Settlement, an independent adult education centre, is one of the treasures of the world's first garden city. Starting life in 1920 as Letchworth Adult Education Settlement, it soon became part of the wider Educational Settlement Association, following the example of Toynbee Hall in London, and is now one of few such institutions still in existence in 2020.
In its early days, the Settlement embodied the ideals of the young garden city with its ethos of self-help. There was a strong belief that everyone was entitled to an education and to fulfil their potential; the unemployed in the town were regularly helped with free classes and meals.
More about the book

In 1925 the Settlement moved to the former premises of the Skittles Inn in Nevells Road, which it still calls home. Despite a lack of funds, the number of classes grew steadily and associated societies were formed, including the Settlement Players and the camera club (both still in existence) as well as a choir and orchestra and rambling and camping clubs.

The building was listed grade II in 1979; in 1995 the then Letchworth Corporation bought the building and leased it back to the Settlement, ensuring a more secure future for an institution seen as an integral part of life in Letchworth.

In this lively history, former Hertfordshire County Archivist Kate Thompson looks at the wider context in which the organisation flourished, as well as notable members of staff and key events in its century of sharing knowledge.

About the Author/s:
ISBN: 978-1-912260-29-4 Format: Paperback, 148pp Published: Oct 2020
Any questions
Contact us at UH Press if you have any queries or would like to find out more about this book.