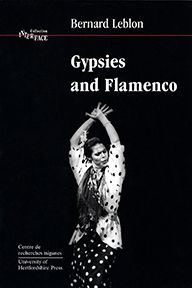 About the book
"the whole book is great … All in all, a must-have for anyone interested in flamenco, Spain or Gypsy history and culture" Songlines
"presents a compelling argument as to the huge debt Flamenco owed to the Gypsy musicians of Europe and in particular of Andalusia. . . . This is an exemplary work and the author deserves acclaim for his contribution to research in this, until recently, uncharted area." Karen Abbott, Brio
This expanded and updated edition, heavily illustrated, traces the development of Gypsy music during the long migration of professional Gypsy musicians from India to Spain and the decisive role of a small number of Gypsy families in Lower Andalusia in the development of flamenco music. The tragic history of the Gypsies' forced settlement and repression is also covered.
The second half of the book comprises a biographical dictionary of the foremost Gypsy flamenco artists past and present and a listing of key audio and video recordings, which make the book an indispensable resource for flamenco enthusiasts.
ISBN: 978-1-902806-05-1 Format: Paperback, 158pp Published: Dec 2003
Any questions
Contact us at UH Press if you have any queries or would like to find out more about this book.