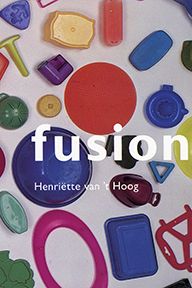 About the book
After a career spanning over thirty years, the Art & Design Gallery, Hatfield, was delighted to offer Dutch painter van 't Hoog (Amsterdam, 1943) her first British exhibition.
Painting directly onto five metre high walls, the 250 square metres of the Gallery were given over to a site-specific artwork on a massive scale. A flood of dissonant colours and textures filled the gallery combining to produce a single unified whole.
More about the book

'Fusion' transformed the space into a celebration of pure colour which bordered on sensory overload. This approach to painting is the key to her practice, as Michael Wright puts it in his illuminating catalogue essay.

A first reading of her current work both requires and generates that state of mind associated with childhood, namely the sheer delight in the existence of colour; that is colour before it is reduced through education to sign, symbol or description.

Although van 't Hoog is a painter trained in the very rigid Dutch tradition, 'Fusion' was much more than a simple exhibition of wall paintings. For a painter she has an unusually sculptural sensibility and sees her wall paintings not as murals but as colour installations intended to have a very specific effect on her audience's sensory perceptions.

Although the work was highly abstract, the detritus of everyday life - such as blister packs and plastic boxes - could be recognised in the outlines and surfaces which were transposed, in monumental scale, to the gallery walls.

One of the most important results of these strategies was that this exhibition resonated more with the early work of the British sculptor Tony Cragg than with any other painting show.

About the Author/s:
ISBN: 978-1-898543-54-1 Format: Paperback, 20pp Published: Jan 2000
Any questions
Contact us at UH Press if you have any queries or would like to find out more about this book.