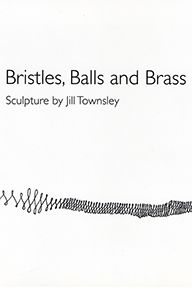 About the book
'Bristles, Balls and Brass' was an installation which combined large scale site-specific and site-sensitive sculptural pieces which utilised the uniqueness of the gallery space and activated a spatial tension within it.
Townsley used her early training in textile techniques to explore the contrasts between our dependency on rational structures and the impurities inherent in life. Materials ranged from stainless-steel wire to plastic balls and broom bristles - a combination of disciplines used to create large-scale sculptural works and which represented the development of Townsley's work over the previous three years.
ISBN: 978-1-898543-80-0 Format: Paperback, 16pp Published: Jan 2003
Any questions
Contact us at UH Press if you have any queries or would like to find out more about this book.