What we do in the Day Nursery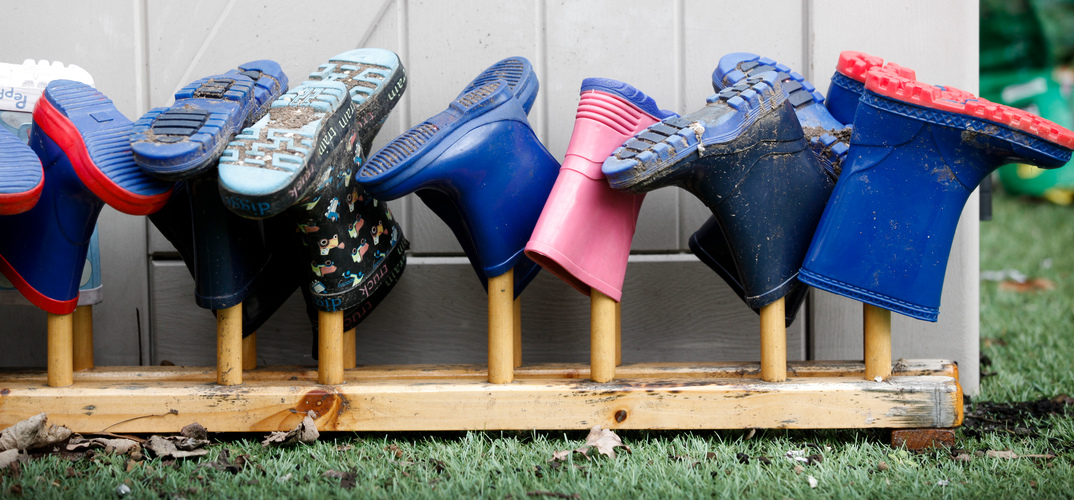 We take our care and educational responsibilities very seriously – and we make sure the children have loads of fun too. Each age group has sessions designed to help them grow and nurture their minds appropriate for their stage of development. They will have opportunities to explore the world around them, as well as make new friends.
Find out what an average day will include for:
Squirrels: 3 months to a year

We don't follow a strict routine in the baby room. Instead, we ask parents to tell us their child's routine (in written form please). That means throughout the day we feed children and put them down for a nap at different times. We feel this helps the children settle better into nursery life.

We open our doors at 8:00, welcome parents and children into the nursery, and offer breakfast.

Building a routine

As the children head towards 1 year we begin to settle them into a toddler routine:

9:30 - snack
11:00 11:20 - lunch followed by a sleep
15:00-15:20 - tea

This helps prepare your child for their next step in nursery to Hedgehogs. We have a wide range of healthy menus and food will be blended where appropriate.

Babies have a separate sleep room with 9 cots. These are labelled with photos and information on the children, which helps them to have a sense of belonging and security. With some luck, the babies fall asleep with the help of rockers, swings and prams.

Playtime

Children have free play in the Squirrel room or in the large play garden. Our large range of toys includes rattles, shakers, bead gyms, musical toys, walkers, balls, sand, paper, cars, musical instruments, tunnels, soft play, treasure baskets and puzzles.

When the weather allows, we go for walks around the University campus. We focus our activities on child-led play and observe what the children like to play with and then provide and adapt activities that reflect that.

Hedgehogs: 1 - 2 years

In Hedgehogs, children will grow and have lots of fun with a wide range of activities. Free flow between the garden and rooms means children are free to explore. Our bright, loving and caring environment is always engaging and inclusive for all.

A typical Hedgehog day

| Time | Activity |
| --- | --- |
| 08:00 | Welcome, free play, handover from parents |
| 09:30 | Nappies |
| 10:00 | Snack |
| 10:15 | Adult-initiated activity, free play |
| 10:45 | Garden play |
| 11:00 | Singing and story time |
| 11:15 | Lunch |
| 11:45 | Sleep time |
| 13:30/14:00 | Quiet activities, nappies, drinks |
| 14:10 | Adult-initiated activity, free play |
| 15:15 | Tea |
| 16:00/16:15 | Quiet time – story books/story cd/relaxing music, nappies |
| 16:15-18:00 | Free play until parents collect |

Foxes: 2 - 3 years

In the Foxes room, we focus a lot on encouraging children's self-help and independence skills including toileting and washing hands. We introduce letters and sounds predominately focussing on their listening skills as this will play an important role when they progress to letter sounds at a later stage.

Children are encouraged to explore both the indoor and outdoor environment. To do this we have a free flow system which provides children with the opportunity to choose where they would like to play, ensuring that they have access to all 7 areas of learning.

As the children arrive they self-register using picture cards. Each child finds their picture and puts it on the train outside the room.

They will have a wide range of fun activities throughout the year such as:

Playdough
Crafts
Matching colour games
Sand
Construction
Mark making
Cooking

A typical Foxes day

| Time | Activity |
| --- | --- |
| 08:00-09:00 | Breakfast |
| 09:30 | Registration and circle time |
| 10:00–10:40 | Rolling snack and free play |
| 10:40–11:30 | Free play/adult-led activity |
| 11:30 | Lunch time |
| 12:00 | Sleep/free play |
| 14:00 | Registration and circle time |
| 15:00 | Tea time |
| 15:30-18:00 | Free play until parents collect |

Badgers: 3 - 4 years

In Badgers, we follow the Early Year's Foundation Stage which sets the standards for all children's learning and development.

We aim to provide both engaging and stimulating activities based on children's individual interests and developmental needs. This is done through a combination of adult-guided and child-initiated experiences which cover the 7 areas of learning. We strive to ensure all children feel happy, safe and secure in their nursery environment.

Activities

Throughout the year we have a range of fun activities such as:

Carol service
Trips, such as to the pantomime
Working with the local community, like dentists, gardening, recycling
Tiny mites
Celebrating cultural celebrations
Inviting parents to come in
Cooking
Sports Day
Using the University library
Mini beast hunt in the nature garden

A typical Badger day

| Time | Activity |
| --- | --- |
| 08:00-09:15 | Meet and greet, self-registration and free play |
| 09:15-09:50 | Circle time |
| 10:00-10:40 | Rolling snack |
| 10:30-11:20 | Jolly phonics and planned activities based on children's interest and next steps from learning journal |
| 11:20-11:40 | Outdoor free play |
| 11:40-11:55 | Song/story time and wash hands ready for lunch |
| 12:00-12:30 | Lunch |
| 12:30-13:50 | Free choice/outdoor play |
| 13:50-14:00 | Circle time |
| 14:00-14:50 | Planned activities |
| 14:50-15:00 | Story time, wash hands ready for tea |
| 15:00-15:45 | Tea time |
| 15:45-18:00 | Free play until parents collect |
Our approach to childcare
At The University Day Nursery we:
Give each child the opportunity for all-round development.
Monitor each child's progress.
Organise indoor and outdoor activities to expand and enrich children's interests.
Build children's self-confidence and self-esteem.
Support children in finding their own ways to solve problems.
Help children become aware of cultural diversity in the community, encouraging respect for each other's values and customs.
Make conversation with children and get involved in their play, extending their learning and understanding.
Integrate children with special needs, wherever possible.
Provide a flexible curriculum and respond to the needs of each group of children to adapt what and how we teach.
The children happily work together sharing their thoughts and ideas and are developing the skills required to prepare them for their future learning, such as when they move on to school'.
Ofsted
How we work with parents
We aim to:
Share our expertise and listen to you, ensuring we're both doing the absolute best we can to look after your child.
Keep you informed about the day-to-day running of the day nursery, as well as educational and childcare issues.
Help you become involved in your child's learning and development.
Parents spoken to on the day of the (Ofsted) inspection…say an inclusive and welcoming atmosphere is provided by staff who know their children and families well.
Ofsted
Happy healthy mealtimes
We promote healthy eating and believe in providing high quality meals. We ensure fresh fruit and vegetables are provided with all meals.
Meal times are a social time where children develop skills such as using cutlery, using manners and developing social skills. They provide an opportunity for children to interact with their peers and key worker. See an example of our healthy and tasty menus.
Children's awareness of developing a healthy lifestyle is promoted well. Children are provided with healthy food choices at meal and snack times and… they learn about what constitutes a healthy diet.
Ofsted