Research and development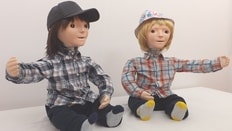 Kaspar has been developed by the University of Hertfordshire's Adaptive Systems Research Group, a multidisciplinary group that conducts pioneering research into artificial intelligence and robotics.
The Group studies how humans and machines interact with each other, even using a typical semi-detached house in Hertfordshire – the Robot House – as a 'real-world lab' to explore how people might live alongside robots.
Building on research that stretches back to 1998, Professor Kerstin Dautenhahn and Dr Ben Robins have developed Kaspar into a working prototype that has met with significant success in trials with autistic children in various settings.
Feedback from teachers, health professionals and parents has enabled researchers to further redesign and develop Kaspar's effectiveness in supporting children with autism.
Long-term studies carried out at specialist Hertfordshire early years centre TRACKS Autism and a primary school in Athens have demonstrated the benefits that interacting with Kaspar can bring to children with autism, and provided valuable feedback for design changes and increased usability. The results of these studies will be submitted to peer-reviewed academic journals shortly.
In 2016 the European Commission awarded Professor Dautenhahn's team more than £500,000 to develop more autonomous features for Kaspar, as part of the Horizon 2020 EU project Babyrobot. The aim is to use Kaspar to develop new multi-modal interaction technology that will allow several children with autism to play with the robot at the same time.
Key publications
Research into the effectiveness of Kaspar in supporting children with autism has been published in internationally renowned academic journals.
Contribution of Kaspar to therapy and educational goals for children with autism

Research independent of University of Hertfordshire, involving 54 multidisciplinary autism spectrum disorder (ASD) practitioners, found professionals are convinced that Kaspar can be useful in interventions for a broad range of therapy and education goals for children with ASD.

Findings published in the International Journal of Social Robotics indicate that professionals expect Kaspar to be of added value for goals relating to communication, interpersonal skills, play, emotional wellbeing and development of preschool skills.

Read the full paper: Contribution of Kaspar to therapy and educational goals for children with autism

Using Kaspar to teach children with autism about physical interaction

For this study published in the International Journal of Social Robotics, children with autism interacted with Kaspar in a tactile way while he was equipped with touch sensors in order to be able to distinguish gentle from harsh touch, and to respond accordingly.

Data obtained from video analysis showed that children treated Kaspar as an object of shared attention with the experimenter, and performed more gentle touches on the robot as the sessions progressed. The children also learned to identify body parts.

The University of Hertfordshire study demonstrated the potential to teach children with autism about body parts and appropriate physical interaction using a humanoid robot.

Read the full paper: Using Kaspar to teach children with autism about physical interaction

Using Kaspar to facilitate collaborative play among children with autism

This University of Hertfordshire study published in IEEE Transactions on Autonomous Mental Development presented a novel design, implementation, and first evaluation of a collaborative game involving Kaspar playing games with pairs of children with autism.

Children with autism have impaired social communication and social interaction skills, which make it difficult for them to participate in many different forms of social and collaborative play.

In the study Kaspar operated fully autonomously, using information on the state of the game and behaviour of the children to engage, motivate, encourage and advise pairs of children playing an imitation game.

Through 78 separate play sessions, detailed observational analyses of the children's behaviours indicated that different pairs of children with autism showed improved social behaviours in playing with each other after they played as pairs with the robot Kaspar compared to before they did so.

Read the full paper: Using Kaspar to facilitate collaborative play among children with autism