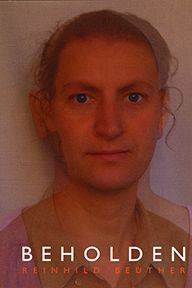 About the book
Reinhild Beuther is an artist who uses photography as a means to a very specific end. In a body of work which engages with mood and personal context she fully embraces the camera's ability, in combination with the arsenal of digital media available to today's practitioners, to create its own truth.
In this exhibition the Art & Design Gallery, Hatfield, was dominated by a site-specific installation of eight giant semi-transparent portraits which overlapped images of the artist's closest family members, presented upon and which made full use of the gallery's high windows.
The production process resulted in a series of images which were simultaneously both alien and familiar, male and female, and at all times possessed of a range of different moods, personalities and moments.
More about the book

Beuther differs from other artist photographers in that she studied sculpture at the Royal College of Art (rather than fine art or photography). The result of this is a positively sculptural sensibility with which she engages with the gallery space.

Rather than an embellishment, photography becomes a contemplative, full sensory experience, as much about the mediation of environment as imagery.

About the Author/s:
ISBN: 978-1-898543-63-3 Format: Paperback, Published: Jan 2001
Any questions
Contact us at UH Press if you have any queries or would like to find out more about this book.