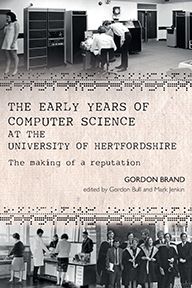 About the book
This book has been edited by Gordon Bull and Mark Jenkin.
The University of Hertfordshire opened in September 1952 as Hatfield Technical College, the first major post-war project in technical education to be planned in England.
In 2015/16 the University's School of Computer Science celebrated fifty years of running their BSc in Computer Science. Ten years earlier, prompted by the fortieth anniversary, background research by the author unearthed a wealth of material that was pertinent, not just to the provision of the undergraduate scheme, but also to the development of computing and the computing service in general during the early years at Hatfield. Building on this research, he was able to write a history embracing the period that put Hatfield in the vanguard of computer science education in the 1960s.
More about the book

This book celebrates the rapid growth of higher education in the 1960s and the achievements of the pioneers in computer science at Hatfield whose vision and determination made Hatfield a vibrant centre for teaching, research and service provision. It includes contributions from the early students and recognises the impact that they made on an emerging industry.

The book illustrates how the early years of computer science at Hatfield made its reputation, one that has continued to the present day.

Gordon Bull was Professor of Information Technology and Dean of the IT Faculty at the University of Brighton following a long career in higher education. He retired in 2000 and was accorded the title of Professor Emeritus for his services to the university. His research career spanned some 40 years and he was responsible for a number of innovations including starting one of the first degrees in Computer Science.

Mark Jenkin was Associate Dean of the School of Computer Science at the University of Hertfordshire.

Read a sample chapter

About the Author/s:
ISBN: 978-1-909291-89-8 Format: Paperback, 196pp Published: Mar 2016
Any questions
Contact us at UH Press if you have any queries or would like to find out more about this book.