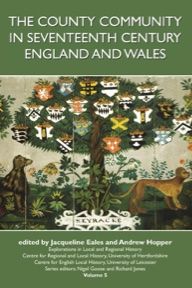 The County Community in Seventeenth-century England and Wales
Editor: Jacqueline Eales, Andrew Hopper
Price: £14.99 £11.99 (free p&p)
"
"University of Hertfordshire Press has taken over Leicester's role as the major academic local history publisher and is to be congratulated on yet another excellent publication in this discipline. It is a thought-provoking collection of essays, each of which draws on different aspects of Everitt's original thesis, presents new research and opens up further avenues of enquiry."
About the book
"As this attractively produced, reasonably priced and cogently argued volume makes clear, Everitt still provides today's historians with a useful starting point for debate and further research. Never intended anyway to offer a ready-made formula that would fit all parts of the country, more than fifty years on Everitt's work still commands attention, not least for its pioneering 'environmental' approach to seventeenth-century politics." R.C. Richardson, Southern History
This volume honours the memory of Professor Alan Everitt who, in a series of publications during the 1960s and 1970s, advanced the fruitful notion of the 'county community' during the seventeenth century.
Everitt's The community of Kent and the Great Rebellion (Leicester, 1966) convinced scholars that counties were worth studying in their own right rather than merely to illustrate the national narrative. He emphasised the importance of local identities and allegiances for their own sake.
Taking into account over two decades of challenges to Everitt's assumptions, the present volume proposes some modifications of Everitt's influential hypotheses in the light of the best recent scholarship.
In so doing, this collection signposts future directions for research into the relationship between the centre and localities in seventeenth-century England.
The essays' innovative interpretations of the concept of the 'county community' reflect the variety of approaches, methods and theories generated by Everitt's legacy.
More about the book

The book includes an important re-evaluation of political engagement in civil war Kent and also has a wider geographical focus as other chapters draw examples from numerous midland and southern counties as well as Wales.

A personal appreciation of Professor Everitt is followed by a historiographical essay which evaluates the extraordinary impact of Everitt's book and the debate it provoked.

Other chapters assess the cultural horizons of the gentry and ways of analysing their attachment to contemporary county histories and there is a methodological focus throughout on how to contextualise the local experiences of the civil wars into wider interpretative frameworks.

Whatever the limitations of Everitt's original thesis may have been, historians studying early modern society and its relationship to the concepts and practice of governance must still reckon with the county and the primacy of local experiences which was at the heart of Everitt's work.

About the Editor/s:

---
ISBN: 978-1-907396-70-0 Format: Paperback, 176pp Published: Jul 2012
Any questions
Contact us at UH Press if you have any queries or would like to find out more about this book.