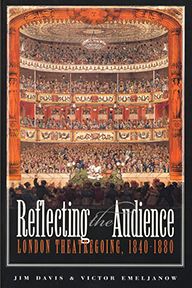 Reflecting the Audience
London theatergoing, 1840-1880
Author: Jim Davis, Victor Emeljanow
Price: £14.99
"
"One of the best, most interesting, and most useful studies of the Victorian theatre that I have seen"
Not currently available.
About the book
Reflecting the Audience won the Theatre Book Prize for 2001.
More about the book

This innovative work fills a gap in theatre studies: the lack of any comprehensive study of nineteenth-century theatre audiences. It focuses on London from immediately prior to the deregulation of theatres up to the time when the Metropolitan Board of Works assumed responsibility for their licensing.

The authors examine the composition of Victorian London's theatre audiences, their behaviour and their attendance patterns by looking at topography, social demography, police reports, playbills, autobiographies and diaries, newspaper accounts, and the managerial policies of each theatre.

About the Author/s:

---
ISBN: 978-1-902806-18-1 Format: Paperback, 316pp Published: Nov 2001
Any questions
Contact us at UH Press if you have any queries or would like to find out more about this book.