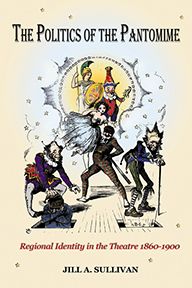 The Politics of the Pantomime
Regional identity in the theatre, 1860-1900
Author: Jill Sullivan
Price: £14.99 (free postage)
"
"It is so full of information that I wished that each chapter was longer! The examples that Jill Sullivan provides are lively and pertinent; her written style is attractive, her structure and thought processes possess clarity and directness... so difficult to put down."
About the book
"provides a fascinating insight into the pantomime industry and its many differing practices and conventions during an era of extreme transformation, not only on stage, but also in society." Simon Sladen, New Theatre Quarterly
"Sullivan's book marries painstaking work at the coalface of the archive with a thoughtful and illuminating narrative, resulting in a carefully considered account of how theatre managers engaged local audiences, while still trying to make a profit. The Society for Theatre Research and the University of Hertfordshire Press should be recognized and commended for their commitment to publishing this kind of work, which is necessary for the development of our discipline. Sullivan offers a cornucopia of archival detail: amusing, pointed, always informed by a broader sense of party politics, local and national, and a truly comprehensive bibliography. For this alone, scholars of popular performance history should keep returning to this book." Katherine Newey, Studies in Theatre and Performance
The Politics of the Pantomime examines English pantomime productions in the mid- to late-nineteenth century, focusing not on the pantomimes of the major London theatres but rather on the variety and independence of those in the provinces, in particular the three urban centres of Nottingham, Birmingham and Manchester.
Many regional productions were far from being pale imitations of Drury Lane spectacle and although sometimes curtailed by the practicalities of local economics, producers and writers nevertheless used their inventiveness to create pantomimes that were rooted in specific expressions of local cultural identity.
More about the book

By the 1860s, regional theatres were establishing their own pantomime traditions, engaging specific and established local authors and employing a wealth of topical references that reflected the developing local urban and regional culture. For the importance of provincial pantomime lay in its geographical and creative distance from London.

Due to a combination of official leniency, distance from the Lord Chamberlain's office and local collusion, regional pantomimes often played fast and loose with political satire, an aspect of provincial theatre that is often overlooked, but was openly recognised in the period. In redefining the importance of written and visual satire in those productions, this book explores official and local censorship and the relationships between local theatres, their managers, authors and the local audiences.

Jill Sullivan's book provides a much-needed extension to current understanding of the role of nineteenth-century pantomime, bringing to light an important political dimension to pantomime productions and emphasising the genre's relevance to local and regional culture in the nineteenth century.

Read a sample chapter

About the Author/s:
ISBN: 978-1-902806-89-1 Format: Paperback, 288pp Published: Jul 2011
Any questions
Contact us at UH Press if you have any queries or would like to find out more about this book.