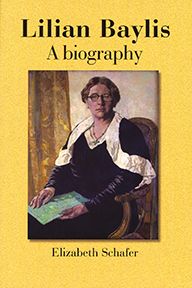 About the book
"a fascinating picture of a determined woman." Derek Hyde, Inside ENO
"easy to read and the early chapters on Baylis's life are just as fascinating as those on the years when she ran the Old Vic." In SE1
"I felt strongly that Professor Schafer had restored Lilian Baylis to her rightful place in the history of twentieth century theatre and demonstrated the measure of her remarkable achievement in exemplarily lucid and readable prose." Richard Mangan, Theatre Book Prize 2006 Judge
The first biography of Lilian Baylis for over thirty years and one which considerably revises the established image of Baylis as a domineering and eccentric old lady.
Based on new and original research, the book draws extensively on Baylis's autobiographical writing. The only previous full length biography of Baylis, (Lilian Baylis: The Old Lady of the Vic, by Richard Findlater, 1975, now OP) did not use the Baylis archive effectively.
More about the book

When Lilian Baylis was badly hurt after a car accident, someone at the scene called out, 'It's Miss Baylis. Miss Baylis of the Old Vic.' In spite of her injuries, Baylis drew herself up and imperiously corrected them, 'AND Sadler's Wells.'

But Baylis was much more than the manager of the Old Vic and Sadler's Wells - she was also a founding mother of the British National Theatre, the Royal Ballet and the English National Opera. She gave career-changing breaks to actors such as John Gielgud and Laurence Olivier, created new roles for Alicia Markova and furthered the careers of stars in the making such as Alec Guinness, Margot Fonteyn and Joan Cross. Even Joan Littlewood desperately wanted to work for Baylis.

This biography sets out to discover how Baylis was able to manage two theatres and three companies, bringing what was considered the very best of high culture to working people, and still haul her theatres into profit.

Elizabeth Schafer looks beyond the famous comic anecdotes and discovers the private woman behind the public persona. Refreshingly candid, the book argues for Baylis's significance in the shaping of British theatre. The weight of the evidence painstakingly gathered here makes clear the extent to which Baylis's work and influence has been sidelined in British theatre history.

Read a sample chapter

About the Author/s:
ISBN: 978-1-902806-64-8 Format: Paperback, 320pp Published: Apr 2007
Any questions
Contact us at UH Press if you have any queries or would like to find out more about this book.