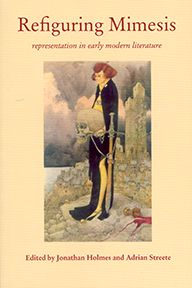 Refiguring Mimesis
Representation in early modern literature
Author: Jonathan Holmes, Adrian Streete
Price: £25 (free postage)
"
"Holmes and Streete offer us a rehabilitation of 'mimesis' — an aesthetic category often oversimplified in the first-wave theorisation of literary studies. What emerges is a critique and a renewal of a key aesthetic concept as well as a complex realisation of its various historical transformations"
About the book
"A collection of 11 critical essays of serious import ... It surprises and delights with fresh readings of Shakespeare ... a book not to be missed" Chronique, Bibliotheque d'Humanisme et Renaissance
"Diverse and provocative" Robert Wilcher, Modern Language Review
The early modern period is characterised by a crisis of representational practice. Fuelled by both the iconoclastic impulses of reformed religion and profound political and economic changes, the literature of the period negotiates an acute cultural engagement with the discourses of representation.
Early modern scholarship has sought to define the early modern subject in relation to a careful historicism as well as to a materialist analysis of cultural production.
More about the book

At the same time, continental thought has responded to our own late-capitalist crisis in representation, under the umbrella terms poststructuralism and postmodernism.

This response has been characterised by a move away from theories of artistic or authorial expressivity and a renewed interest (logical in retrospect) in the much older concept of mimesis. Whether it is in the writing of Theodore Adorno, Jean Baudrillard, or Jacques Derrida himself, mimesis is firmly back on the philosophical agenda.

However, in the Anglo-American critical tradition the assumption that mimesis stands for an epistemologically transparent 'reflection of reality' remains almost unconsciously ingrained in much critical discourse: the shadow cast by Erich Auerbach's seminal study Mimesis: The Representation of Reality in Western Literature (first published fifty years ago) is a long one.

This volume aims to refigure the Auerbachian hegemony by re-focussing on the irreducibility of the mimetic as a philosophical idea.

About the Author/s:

---
ISBN: 978-1-902806-35-8 Format: Paperback, 240pp Published: Feb 2005
Any questions
Contact us at UH Press if you have any queries or would like to find out more about this book.