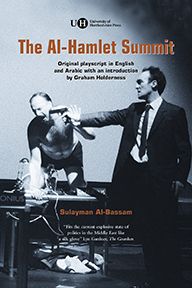 About the book
"A superbly constructed dramatisation of a society's descent into fundamentalism and chaos" Sunday Herald
The Al-Hamlet Summit is a loose adaptation of Shakespeare's Hamlet and a remarkable piece of twenty-first century theatre set in the cauldron of Middle-Eastern discontent.
Having gained control of a modern Arab state, a ruthless dictator attempts a westernised experiment in thrall to arms dealers and propped up by U.S. dollars. Yet a catastrophic war is brewing, he is besieged by enemy neighbours from without and a growing Islamic extremism from within, whilst his predecessor's son, Hamlet, is plotting revenge.
Al-Bassam's Summit is Hamlet boldly re-imagined as pure, deadly politics.
This edition includes an introduction by Professor Graham Holderness and is illustrated throughout with performance stills from Al-Bassam's internationally award-winning 2004 production of the play.
ISBN: 978-1-902806-62-4 Format: Paperback, 176pp Published: Aug 2006
Any questions
Contact us at UH Press if you have any queries or would like to find out more about this book.