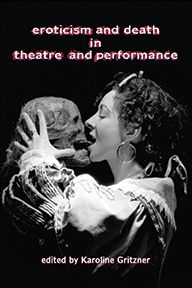 Eroticism and Death in Theatre and Performance
Editor: Karoline Gritzner
Price: £18.99 £15.19 (free p&p)
"
"[Howard] Barker's bold historical afterword is a fine end point to a genuinely and wonderfully diverse collection on an inescapably powerful subject. Try as they might, the exponents of a modest, 21st-century naturalism in the theatre cannot drown out the resonant possibilities of tragedy and its multifarious articulations of the seminal connection between sexual desire and death."
About the book
Eros and Death are the two central drives and compulsions of the human psyche, and their dynamic interconnectedness has been pervasive in the formation of Western thought and culture.
The essays brought together in this collection offer new perspectives on the eros/death relation in a wide selection of dramatic texts, theatrical practices and cultural performances.
Topics explored range from Greek tragedy, Shakespearean theatre, the work of Georg Büchner, Bertolt Brecht, the kiss of death in opera, the theatricality of Parisian culture, to the performance of conjuring, contemporary British drama, body art, the live performances of Nick Cave and erotic encounters in One to One performances.
More about the book

Many of the essays locate their discussions of erotic desire and death as conflicting and entwining passions in specific cultural-historical contexts and provide a sense of how drama and theatre reflect and influence changing attitudes towards sexuality and death.

As well as offering particular historical perspectives, the collection contains essays that engage with contemporary dramatic writing and experimental theatre/performance practice, such as the drama of Howard Barker, the performance work of La Fura dels Baus, and the explicit body performances of Ron Athey.

Various ways of eroticising death in theatre and through performance are addressed, as well as the question of whether there is something intrinsically theatrical about our encounters with the ultimately unknowable nature of sexual desire and our relation to death.

The book combines theoretically informed criticism (drawing on psychoanalytical and philosophical models by Freud, Bataille, Lacan, Zizek, Lingis and others) with detailed text and performance analyses, giving a sense of the powerful appeal which death and the erotic exert on the human imagination.

The collection also includes essay contributions by dramatists David Rudkin, Dic Edwards, David Ian Rabey and an Afterword by Howard Barker.

Read a sample chapter

About the Editor/s:
ISBN: 978-1-902806-92-1 Format: Paperback, 288pp Published: Oct 2010
Any questions
Contact us at UH Press if you have any queries or would like to find out more about this book.