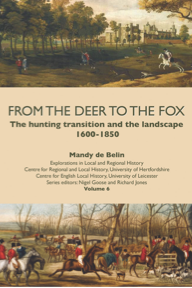 From the Deer to the Fox
The hunting transition and the landscape, 1600–1850
Author: Mandy de Belin
Price: £14.99 £11.99 (free p&p)
"
"This meticulously researched and much-needed study explores the shift from deer- to fox-hunting from the early seventeenth to the mid-nineteenth century and its effects on the landscape of Northamptonshire."
About the book
"This is a well argued volume which breathes new life into the debate surrounding the transition between one sport and another." Deer Journal
"The complex web of human-animal relationships, played out over radically changing landscapes and an equally unsettled social geography, are the context for this... well-written study." Jonathan Finch, Rural History
Between the seventeenth and nineteenth centuries the sport of hunting was transformed. The principal prey changed from deer to fox, and the methods of pursuit were revolutionised.
The traditional explanation of the hunting transition has aligned it with change in the landscape: disappearing woodland and increased enclosure led to decline of the deer population. Attention turned to the fox out of necessity.
This book questions the traditional account by looking at the landscape of Northamptonshire. The county contained the archetypal landscapes of both the 'old' and the 'new' forms of hunting; if landscape-driven change could be detected anywhere, it should be there.
More about the book

Northamptonshire had three royal forests. Where such forests had once been the prime hunting grounds, by the nineteenth century this mantle was worn by the grassland of the 'shires'. The elite hunted the fox in Leicestershire, Rutland and Northamptonshire grassland; to hunt anywhere else was to hunt in the 'provinces'.

The wooded landscape of Northamptonshire forest had not disappeared when foxhunting gained the ascendancy, however, and it still supported a deer population. An alternative explanation for the hunting transition must be sought, then.

The major pleasure to be gained from the pursuit of the deer was observing the skill of the hounds, while the major pleasure to be gained from 'modern' fox hunting was the thrill of a fast gallop across country. If seventeenth-century hunting was about the hound, then nineteenth-century hunting was about the horse.

Woodland was not the landscape for a horseback pursuit at breakneck speed; the defining feature of the shires landscape was mile after mile of grass to gallop across. The earlier landscape survived, but was no longer what was required.

The book argues that the many changes that hunting underwent in this period were directly related to the transformation of the hunting horse. The near-thoroughbred horse became the mount of choice for those who hunted in the shires. The fast horse, the fast hound, and the fast prey came together with the availability of extensive rolling pasture.

It was, quite literally, the thrill of the chase that drove the hunting transition.

Read a sample chapter

About the Author/s:
ISBN: 978-1-909291-04-1 Format: Paperback, 192pp Published: Sep 2013
Any questions
Contact us at UH Press if you have any queries or would like to find out more about this book.