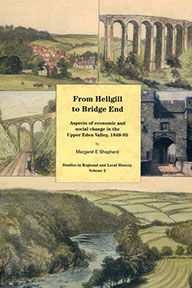 From Hellgill to Bridge End
Aspects of Economic and Social Change in the Upper Eden Valley 1840–95
Author: Margaret E Shepherd
Price: £18.95 £15.16 (free p&p)
"
"The book is of immense value [to anyone] who wishes to gain an insight into the extent of change in a remote upland rural area during a period of industrial and social upheaval."
About the book
"The book does extremely well both in its purpose of digesting and clearly interpreting an extremely large set of locally-orientated data, and of engaging with some larger debates about the nature of developments in Victorian Britain as experienced by 'ordinary' people'" David Harvey, The Local Historian
In this comparative study, the experience of the people who lived in nine north Westmorland parishes during the Victorian period has been examined.
Based on detailed analysis of six census enumerations, together with other documentary evidence, the work gives a unique insight into the developing economy and reveals the contrasts between neighbouring rural parishes.
The book explores culture and social life including religion, education and leisure, transport, the local economy, agriculture and migration.
ISBN: 978-1-902806-32-7 Format: Paperback, 392pp Published: Jun 2004
Any questions
Contact us at UH Press if you have any queries or would like to find out more about this book.