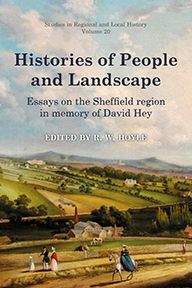 Histories of People and Landscape
Essays on the Sheffield region in memory of David Hey
Editor: Richard W. Hoyle
Price: £18.99 (free postage)
"
"David Hey was one of the most prolific and influential English local historians of the past half century, and this collection of essays is a worthy tribute from his friends and colleagues, with ten essays spanning the centuries from the thirteenth to the twentieth and embracing that range of disciplines that feed into good local family and community history."
About the book
"No British regional history scholar has deserved a commemorative tribute for both research and publications more than Professor David Hey. Richard Hoyle has fittingly gathered together in this well-presented and illustrated book an eclectic collection of academic material." Stephen Caunce, Yorkshire Archaeological Journal
"[P]rovides a richly detailed picture of one unique region, its land and people, farms and industries, jurisdictions and place-names. It demonstrates that deep study of a particular place reveals patterns and nuances often missed in more general studies. Histories of People and Landscape, like the scholar it memorializes, champions the value of both local history as a scholarly endeavor and the region that it illuminates." Catherine F. Patterson, Agricultural History
"David Hey was deeply appreciative of the richness of landscape and history in the Sheffield region. 'Where else in Britain', he wrote, 'can you pass from heather moors through wooded hills and vales to the "champion country" of the magnesian limestone belt and on to the Dutch-style landscape of Hatfield Chase within a journey of only thirty miles?' This meaty volume succeeds in using the varied territory of his home patch to interrogate wider themes and in doing so to illuminate a broad range of topics. David would have enjoyed it thoroughly." Angus Winchester, Agricultural History Review
"If there is a common thread running through these papers, apart of course from their association with David Hey, it is revisionism – which of course was a practice dear to David's heart. By taking a revisionist perspective, these authors challenge us to rethink our assumptions, and to apply them to our own areas with the diligence that these authors apply them to theirs." William D. Shannon, The Local Historian
"This wide-ranging collection of essays provides new insights not only to local historians of the region but also more widely to those who are interested at a national level in the many topics covered." Nigel Smith, Northern History
"This is a well-presented volume containing a selection of carefully researched essays that recognize the diversity of David Hey's research interests. The essays also reflect David's devotion to the society, economy and landscape of south Yorkshire and Derbyshire. The book has a high standard of production with well-drawn maps. It is likely to be of interest not only to local historians of the Sheffield region but also more widely to social, economic and landscape historians who see the value of relating local studies to national processes. It is also a fitting tribute to the life and scholarship of David Hey." Colin G. Pooley, Social History
"This volume serves both as a warm tribute and an illustration of the all-round strengths of local history as practised by David Hey." Kate Tiller, Landscape History
David Hey (1938–2016) was one of the leading local and regional historians of our age and the author of a number of highly regarded books on the practice of local history. His work on surnames was pioneering and he was amongst the first to identify the potential of DNA in historical studies.
In this collection of essays in David's memory, friends and colleagues celebrate his commitment to the landscape, economy and society of south Yorkshire — especially Sheffield — and Derbyshire, which together make up 'Hey country', the area in which he grew up and to which he returned to work.
More about the book

This lively volume will be of interest to anyone who shares David Hey's curiosity for the people, economies and landscapes of the part of England he made his focus. At the same time the essays will prove to be of interest to all those concerned with the workings of English local society and economy. Covering a wide range of subjects and periods, they include accounts of the early English steel industry, Sheffield cutlers, Lord William Cavendish's canny use of his stepson's wardship, the lost woodlands of the Peak District, First World War food production in Derbyshire, south Yorkshire deer parks and a brief history of Little Londons. Fresh research into family and placename history contributes fascinating detail to the mix.

The contributors are some of the key researchers in academic local history: Melvyn Jones, Richard Hoyle, Peter Edwards, Dorian Gerhold, Ian D. Rotherham, John Beckett, Alan Crosby, Nicola Verdon, John Broad and George Redmonds. A tribute to David Hey by Charles Phythian-Adams opens the volume.

Read a sample chapter

About the Editor/s:
ISBN: 978-1-912260-40-9 Format: Paperback, 218pp Published: Mar 2021
Any questions
Contact us at UH Press if you have any queries or would like to find out more about this book.