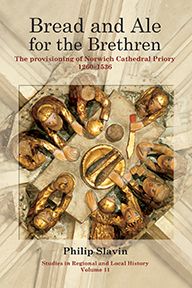 About the book
"By making empirical academic scholarship available at an accessible price, University of Hertfordshire Press provides an important service to local and landscape historians, many of whom do not enjoy easy access to university libraries. In the eleventh volume of their series 'Studies in Regional and Local History', Philip Slavin deploys an impressive number and range of documents to investigate how Norwich Cathedral Priory (which, in the early fourteenth century, housed approximately sixty monks and 240 lay brethren and staff) met its enormous requirement for bread and ale, the bedrocks of the medieval diet." David Stone, Landscape History
"This highly detailed study will be of particular value to readers with interests in medieval economic history, Norwich cathedral and its estates, or simply wanting to know more about how medieval monks organised their supplies of bread, ale and other provisions." John S Lee, The Local Historian
"This book is about the production and consumption of arable crops by a large monastic institution, Norwich Cathedral Priory, in the later middle ages. It demonstrates the exciting and satisfying results that can be achieved from a thorough and expert analysis of a relatively complete archive, especially when the author is testing various theoretical perspectives against the empirical evidence." Christopher Dyer, Economic History Review
"An extraordinary piece of research. This is a strongly recommended resource because it has wider applications than its seeming central purpose. Clearly it says a great deal about medieval Norfolk but what it reveals should also provide a template for those who are interested in the way that large and small religious houses elsewhere also organized their supply chains." Historical Association
By 1300, England and other West-European countries had undergone a significant degree of commercialisation. More and more communities, both urban and rural, depended on an efficient network of local markets to obtain the goods they needed, in particular for their food.
More about the book

Yet in spite of this, some landed lords and, most notably, monasteries and convents continued to rely on the produce of their own estates, even though there were significant costs and risks associated with the production, transportation and storage of their own food.

Philip Slavin sets out to account for this puzzling situation through an in-depth study of the changing patterns and fortunes of the provisioning of Norwich Cathedral Priory between c.1260 and 1536. Close analysis of contemporary archival sources reveals that the Priory made a deliberate choice, dictated by various economic, social and environmental factors and which, altogether, made isolation from the market a profitable, and very rational, option.

This is a new sort of estate study that considers questions of both production and consumption as well as health issues, including the problems of overeating and obesity occurring in late-medieval monastic populations.

Particular attention is given to the production, transportation, storage and consumption by the Priory household of grain-based products. In the late-medieval period, grains were the single most important component in the daily diet, for both commoners and the higher echelons, accounting for between 50 and 80 per cent of total calorific intake.

Although focusing on one specific region, this is more than just a regional study, analysing as it does a microcosm of the late-medieval English economy and society at a time of political, socio-economic and biological shocks and crises, including years of bad weather, famine, pestilence (both human and bovine), warfare and revolts.

The study of the food supply of late-medieval conventual households sheds much light on the wider process of decline and eventual collapse of direct demesne management in particular, and feudalism in general, in the post-Black Death era.

Read a sample chapter

About the Author/s:
ISBN: 978-1-907396-63-2 Format: Paperback, 240pp Published: Sep 2012
Any questions
Contact us at UH Press if you have any queries or would like to find out more about this book.