Adventures in the Classroom
Responding to the UH Strategic Plan 2015-20: Global Perspectives in the Curriculum
Dr Ivan Phillips and Kim Walden - School of Creative Arts, University of Hertfordshire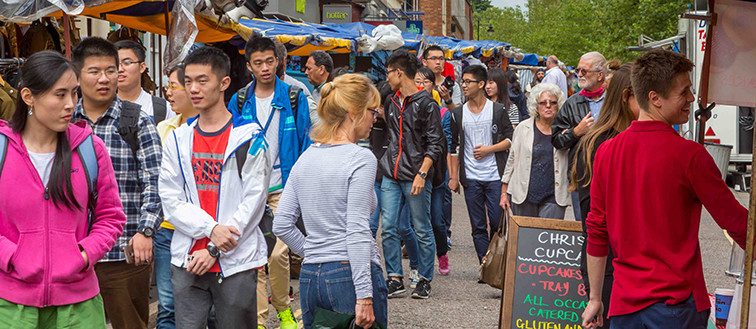 According to conventional wisdom, a strategic plan attempts to communicate the collective vision of an ideal future for an organisation. It begins with the desired outcomes and works backwards, posing the question, 'what is to be done?' If this carries an echo of both Nikolai Chernishevsky (who published his only novel, What Is To Be Done? in 1863) and Vladimir Lenin (whose 1902 revolutionary pamphlet was named after it), then the coincidence is perhaps not entirely incongruous. A strategic plan is, after all, a proposal for cultural change, often radical in nature and with significant implications. The University of Hertfordshire's Strategic Plan 2015-2020 may not be calling for revolution but it is identifying a number of crucial challenges in relation to the character of higher education and its cultural role in the troubled years of the early twenty-first century. These are challenges that the staff teaching in the School of Creative Arts at the University are beginning to address, and nowhere more so than within the Critical and Cultural Studies (C&CS) areas of provision, where the cultural contexts of creative practices – whether in music, visual arts, design or screen media – are the focus of pedagogy, research and the many ways in which these inform each other.
'Strengthening the global perspective in the curriculum' is designated as a key objective of the Strategic Plan, with 'Developing students' social and global awareness' being one of five stated aims in relation to the core theme of 'Education'. These are timely aspirations, with the Higher Education Academy publishing 'Internationalising higher education' as one of its six new frameworks in 2016 and the influential report of the previous year, Building A Creative Nation: The Next Decade, highlighting the particular significance of global contexts for teachers, students and professionals working within the creative industries. Of course, even a brief glance at a newspaper or Twitter feed will disclose further reasons – some more depressing than others – why 'widening the range of available perspectives, beliefs, values, connections and partnerships' might be an essential aspect of educational praxis in the present age. The University of Hertfordshire's Graduate Attributes , aligned with the Strategic Plan, make this explicit in their emphasis on 'foster[ing] discussion of complex and evolving world issues'.
Complex and evolving world issues – and the various means of engaging critically with these – have long been a concern of staff teaching and researching in the broad field of cultural studies. It therefore seemed appropriate that, for the start of this academic year, the School's Critical and Cultural Studies group met to reflect on the presence of global perspectives across its curriculums. Not quite asking the question 'What is to be done?', we nevertheless set for ourselves the task of interrogating our established practices and reflecting on how these might be consolidated, enhanced or further developed. The discussion began by focusing on some key questions:
What does 'global perspectives' mean exactly?
What is the difference between international and global perspectives?
How can we develop global awareness in our students?
How can global perspectives be reflected in teaching resources?
It soon became clear that, in many ways, 'global perspectives' is a slippery term with which to work. To begin with, there is a need for an awareness of the Western-centric nature of not only our case studies in teaching, but the theories and concepts used to analyse them. Clearly, we should be mindful that different conceptual lenses can be employed: Barthes, Kristeva, Metz, Sparke and Žižek are not the world! That said, we also need to keep in mind that one of the things our international students expect when they choose to study here, is a Western perspective. For a student coming from India to study at UH, the very fact that they have come here and are experiencing a different culture may fulfill this 'global perspectives' brief for them. Tacitly, then, part of the potential for this strategic objective is that home students' experiences are enriched by having students from overseas working alongside them.
There is then the question of how we (a contested term if ever there was one!) might to value our international students as a resource in the classroom, without shifting an uncomfortable, probing focus onto individuals who may already feel vulnerable, exposed or simply 'other'. Certainly, there is a need for a sensitive appreciation of the multiplicity of international student contexts and attitudes, but we should likewise be aware of what students from different countries (and different regions within the UK) bring to the classroom. We are all from different 'places', so how can we reflect this in a productive way within our pedagogy?
While they are studying, of course, it is hoped that students will develop critical ways of seeing and thinking, and this is likely to be reflected in a more objective and critical perspective on their home cultures. Travel broadens the mind, as the cliché has it, but it also challenges it. University can provide a safe environment in which to explore and share viewpoints, and also to question them. This is true of home students and international students; it has to be true of staff too.
The challenge then is to create a learning environment into which students can bring their different experience of places, rather than trying to become global experts ourselves - which with the best will in the world is not do-able. A concern was voiced about teaching international students about their own cultures but it was felt that assignments should be designed so that students could choose to write about something which relates to their own culture, as well as the connections between it and what they are learning on the course. Open assignments enable students to pursue their own interests, and by so doing, add to the 'conversation' and create a richer learning environment for everyone.
In advance of the meeting, group members were invited to provide an image and caption on a single slide, offering an example of how global perspectives are contained within their teaching. Sixteen individuals contributed slides as a basis for discussion. One of the genuine delights of this enterprise was the opportunity to gain insights into each other's practices and to share viewpoints between quite distinct discipline areas. And, perhaps not surprisingly for a group of academics with an occupational enthusiasm for artefacts, ideas and argument, the ensuing conversation was lively, dynamic and, at times, provocative. Take a look here.
Presentation
The sheer variety of the slides tells a global tale in itself. In a further attempt to present, explore and expand this tale, the School recently piloted its Going Global project, inviting staff to bid for modest funds to undertake short-term research projects aimed at developing new approaches to global perspectives in teaching. Funds may cover a concentrated period of museum or archive research, for instance, or a brief collaborative visit to a higher education institution outside the UK. Staff submitting successful bids were invited to present on their findings and to indicate how these might inform specific changes in curriculum or pedagogy. The project will be launched in full for the 2016-17 academic year.
Over fifty years ago, in 1964, in the opening pages of his ground-breaking but at times eccentric and dubious Understanding Media, Marshall McLuhan (channelling ideas from the much earlier work of his friend and mentor Wyndham Lewis, America and Cosmic Man) wrote:


In 2016 the environment described by McLuhan is not only familiar but inescapable. Its continuing challenge to our practices as teachers to processes of learning and ecologies of knowledge – is likely to be as exciting as it is unsettling.


⇠ Read 'Silence is normal...' Read 'Feedback in action...' ⇢
---
Contributors
Kim Akass
Mark Broughton
Ian Sturrock
Pat Simpson
Maria Constantino
Rebecca Bell
Grace Lees-Maffei
Polly Palmer
Eray Cayli
Kerry Purcell
Barbara Brownie
Rebecca Thomas
Philippa Jones
Marius Carboni
References
---
LINK 2016, vol. 2, issue 2 / Copyright 2016 University of Hertfordshire