Authors' reflections
Emergent pedagogy in England
A critical realist study of structure-agency interactions in Higher Education
Bushra Sharar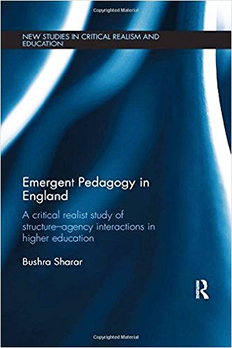 I wrote this book because I was approached by the Series Editor Roy Bhaskar, who felt that my work would be a useful addition to this series by Routledge (New Studies in Critical Realism). He persuaded me to write a book proposal which was very favourably reviewed. My work develops some new theoretical frameworks and also makes some methodological contributions which are useful to researchers in the social sciences.
The reason to write a book rather than use any other form of publication was that the work required substantial theoretical elaboration. It was thought that this would serve as a useful introductory text for those new to Critical Realism. It was also thought that this book would be of interest to lecturers in higher education in the current global and national contexts. The book is considered to be a useful textbook for new researchers developing their doctoral studies.
The key messages of the book are that realism is important in a philosophical outlook in the social sciences; that critical realism, particularly the use of Margaret Archer's development of morphogenesis as a way of tackling the interaction of structure and agency, is a very fruitful way of approaching the social world in change. Finally, the research shows that the agency of lecturers in developing pedagogy in higher education is strongly evident in the cases studied in spite of the structural obstacles to pedagogical innovation and the flourishing of learning in current circumstances in England.
The book develops a critique of the current malaise that educational research methodology currently finds itself in and considers ways forward for researchers.
Purchase Emergent Pedagogy in England.
It will also be available, for reference only, in the University of Hertfordshire library.
---
Teachers Undefeated
Jon Berry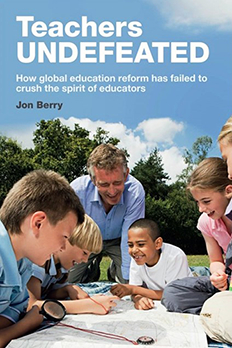 I wrote Teachers Undefeated because I'm furious. I'm furious about the way in which politicians of all hues have hi-jacked our children's education by marketizing every aspect of it they can get their hands on. And I'm furious that in doing so, they have made the job that I love so unattractive and wearisome to tens of thousands of teachers.
What's worse is the shameful waste of it all. Despite an overwhelming societal discourse around individualism - 'because I'm worth it' - people still become teachers because of a sense of responsibility and accountability. They bring creativity, energy and, very often, a commitment to social justice to what they have chosen to do. They will willingly commit hours of unpaid time to bettering the experience of young people; it is a damning testament to the madness of the market that this wonderful 'resource' is deemed disposable and not wrapped in cotton wool and cherished.
I chose to write a book because I wanted as many people as possible to read what I had written. This had implications in terms of the choice of style and format. Although based on years of research (I started interviewing teachers and collecting written testimony from them in 2010) and with a firm political critique as its framework, I have tried to write it in a style that is entertaining and authoritative. The publishers, Trentham Books, were confident about its potential from the start, but were even more relaxed when it was given financial backing from the National Union of Teachers, whose General Secretary, Christine Blower, wrote the foreword.
The basic argument in Teachers Undefeated is that despite the regime of scrutiny, measurement and constraint that characterises how schools are now run, teachers themselves harbour a notion of something better being possible. I am indebted to the Finnish commentator Pasi Sahlberg for coining the term GERM - the Global Education Reform Movement - which captures all of the perils of measurement, obsession with data and constant scrutiny: the acronym, with its connotations of ill-health, is well-chosen. Fortunately, the research, anecdotes and testimony at the centre of the book demonstrate GERM-resistance is alive and well in the soul of the contemporary teacher.
There are fabulous stories throughout. The primary teacher who stays up late practising the execution of Ann Boleyn ensuring that his hat doesn't fall off; the secondary teacher who tells her pupils to cup a thought – which they dutifully bring to the next lesson; the old-hand who defies her deputy-head and allows the children to create purposeful mayhem with the hose-pipe. All of these episodes produce 'outcomes'- just maybe not ones that fit neatly into a multi-coloured Excel chart.
Ultimately, the book challenges teachers to change the system - and is unapologetic in making such a wide, even wild, demand. Only by understanding that what is happening to schools is part of what is happening to housing, the NHS and, indeed, the very notion of public service which is so despised by governments committed to shrinking the state, can real change come about. Individual acts of resistance are welcome and they are brave, but only by collective, concerted action can we beat off the GERM.
Teachers Undefeated is on sale on Amazon and various other outlets. I'd prefer to you order it from Bookmarks or at a discount (£8.50) directly from me.
---
Reflective Practice and Early Years Professionalism 3rd Edition
Linking Theory and Practice
Jennie Lyndon, Lyn Trodd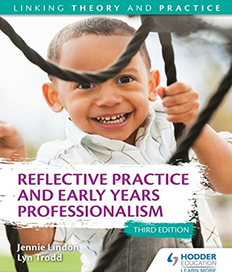 When Jennie Lindon invited me to write this book with her I was very pleased to say yes. Jennie has already published on this theme but I thought I might have something to add because the formation of professional identity through learning was the theme of my doctorate. Jennie takes the view that a profession is defined by what its members are expected to know and understand. I differ from Jennie because my research suggested there is an autobiographical aspect of professional identity which individualizes it and makes it dynamic rather than received.
This is a book for Early Years practitioners and students who intend to work with very young children. Publishing it in a book format suited its likely readership and we hoped it would work as useful, challenging and handy resource for its readers.
One of the book's key messages is that reflective practice is essential to quality of provision for young children. A great deal of the book exemplifies the role of reflective practice in professional behaviour and actions because we wanted to emphasise that reflective practice is visible in actions and is not outside the day to day role of a professional working in the Early Years. The final three chapters promote the idea that reflective practice is not a necessarily solitary and that interactions with other people and working in teams can be a powerful agent in developing such practice.
---
The Early Years Handbook for Students and Practitioners
An essential guide for the foundation degree and levels 4 and 5
Lyn Trodd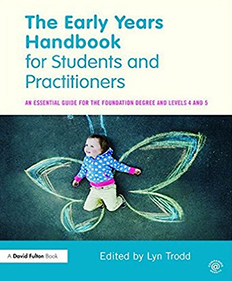 I wrote this book because I have been the Chair of a national committee - the Sector-Endorsed Foundation Degree in Early Years (SEFDEY) Professional Association - for many years. I decided it was time to stand down and hand on the Chair to someone else. However, I wanted to do something to make a final contribution to SEFDEY so I put in a proposal to Routledge to edit a general text book for Foundation Degree students. I wanted the chapters to be written by SEFDEY members i.e. people who teach the Foundation Degrees in Early Years, many of whom work in Higher Education in Further Education.
Why a book and not some other form of publication? Actually this is one of those books that also has a companion website and is also an e-book. It needed to be a book, albeit in electronic form, because colleagues from the SEFDEY Professional Association thought that a book would best answer their students' needs.
I designed the structure of the chapters so that the first group of chapters focuses on being a Student-Practitioner-Professional and some of the challenges created by being those three things as well as having a private life. The second group of chapters looks at the learning and development of children 0-5. Perhaps rather controversially and unusually, this group included chapters on the specific learning and development of different age groups in the 0-5 range as well as key themes in holistic learning and development. The next group of chapters explores the child as a member of a family and society. The final group contains chapters focusing on the role of the Senior Practitioner-Professional and some of the specialist knowledge and skills that would be expected of such a person. Two colleagues in the School of Education contributed great chapters: Dianne Solly wrote about children's creativity and Ute Ward wrote about working in partnership with parents. Every chapter included sections entitled 'From Research to Practice', 'Reflective Practice', 'Provocation' and 'Case Study'. There are 31 chapters in all. As you might imagine, one of the hardest things was chasing all of the contributors so that contributors met the deadlines, but, now it is published, I am pleased that together we created a resource for Foundation Degree students and celebrated the Sector-Endorsed Foundation Degree in Early Years which has opened doors for so many people.


⇠ Read 'Feedback in action...'
---
LINK 2016, vol. 2, issue 2 / Copyright 2016 University of Hertfordshire