Kaspar school study featured in the Mail on Sunday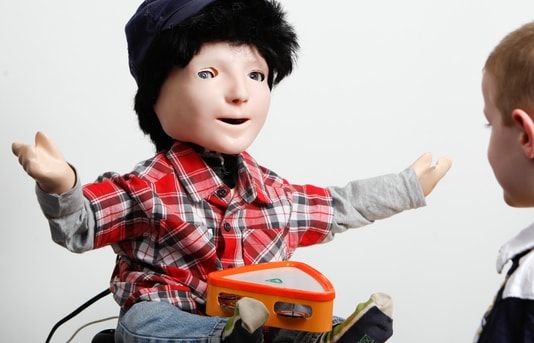 3 December 2016
The Mail on Sunday has featured the use of Kaspar at TRACKS Autism, a specialist early years centre in the Hertfordshire town of Stevenage for children with an autistic spectrum condition.
The article covered the recent modification that researchers have made to Kaspar, including enabling KASPAR to use a knife and fork, comb his hair and brush his teeth - skills that are designed to help children with autism at home with personal hygiene and issues around food and eating.
The report quoted Nan Cannon Jones, founder of TRACKS, as saying: 'We had a child who refused to eat or sit with the other seven children at the school.'
"His mum sent him in with a box of biscuits, and with Kaspar's encouragement over the course of ten weeks, he eventually got to the stage where he would put a biscuit on the robot's lap and sit with him and the other children at the snack table and eat a biscuit himself.
'We have had a lot of wow moments since Kaspar became a permanent part of our school, and if he can make this kind of difference to a child, he has got to be worth having.'
Read the full article
Think robot companions are the stuff of sci-fi fantasy? Well, for autistic children... they're already here.