Our asset library
Illustrating your communications with official, high quality imagery from our Asset Library can bring to life even the most operational of messages.
We've built our Asset Library (replacing our old Image Library) from the ground up, creating a fully curated, highly searchable, and stunningly beautiful collection of official photography that captures all aspects of life at Herts.
The below guide will help you navigate the Asset Library, find the perfect image, and download or share in the right size and format.
To start with, head to assets.herts.ac.uk, click Single Sign-On, and log in using your username@herts.ac.uk and usual password. If you are not a member of staff at the University of Hertfordshire, you will need an account created for you. To arrange this, email studio@herts.ac.uk with the names and email addresses of those who require access, and we'll send you a link to activate your account.
Searching and browsing
There are three main ways to find images in the Asset Library: searching, browsing the entire library, or using our curated collections. Whichever route you take, when you want to explore a single image, just double click it.
Search
We've developed a comprehensive tagging system, applied carefully to each individual image, so your search results are always spot on.
Using the search bar to the top of the page, you can search hundreds of terms related to the common locations, activities and characteristics you'll see across our campuses.
Need to refine your results? Simply enter a new term, and you're searching within your original search results! If you want to start from scratch, simply hit the 'x' on your original search tag.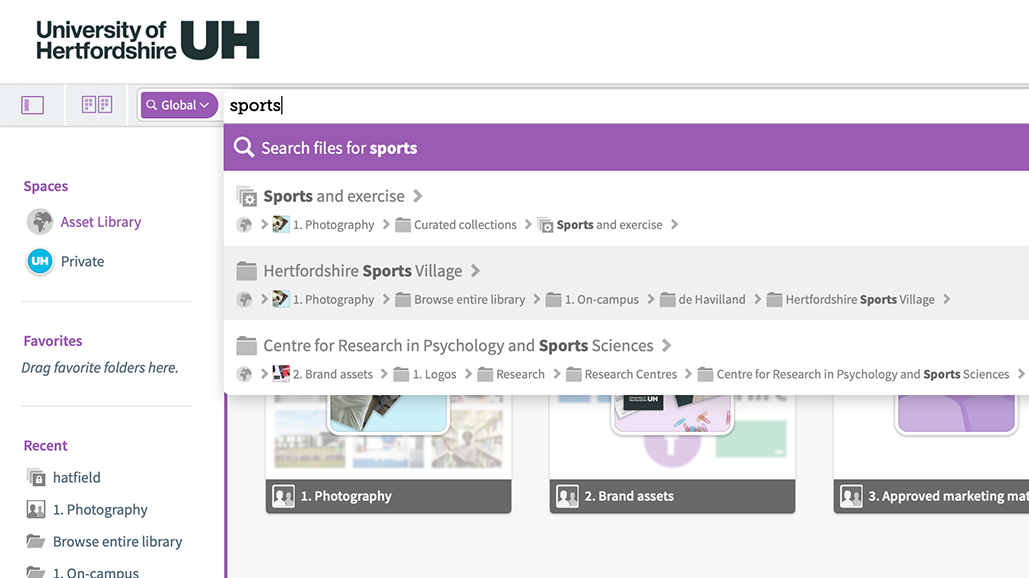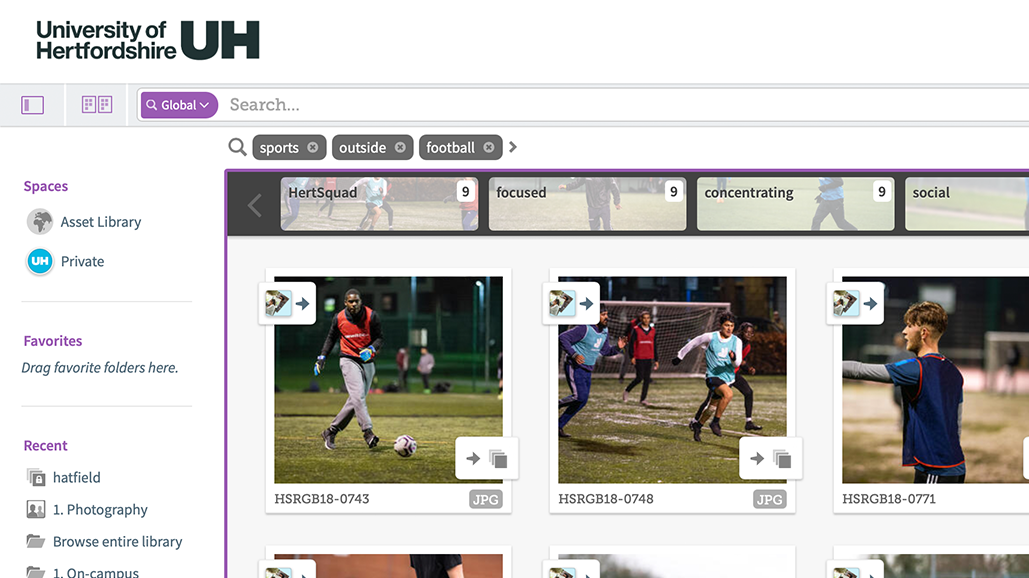 Example search terms
Below is a table of example searchable terms to get you started – there's hundreds more! Refining your search using a combination of these will find you the perfect image.
Location
College Lane
Science Building
Workshop
St Albans
Accommodation
Outside
People
Student
Staff
Black
Asian
Employer
Parent
Activity
Group study
Looking at camera
Dancing
Presenting
Meeting
Social
Behaviour
Laughing
Focussed
Determined
Talking
Inspired
Surprised
Objects
Bicycle
Books
Laptop
Electronics
Hijab
Go Herts Hoodie
Browsing the entire library
Browsing is a great way to explore groups of related images. We've structured our library in a way that should be familiar to all – by location – so you can explore the library in the same way you would explore our campuses.
To browse images by location, double click the 'Photography' tile, double click 'Browse Entire Library', and keep going until you've reached the right collection for you.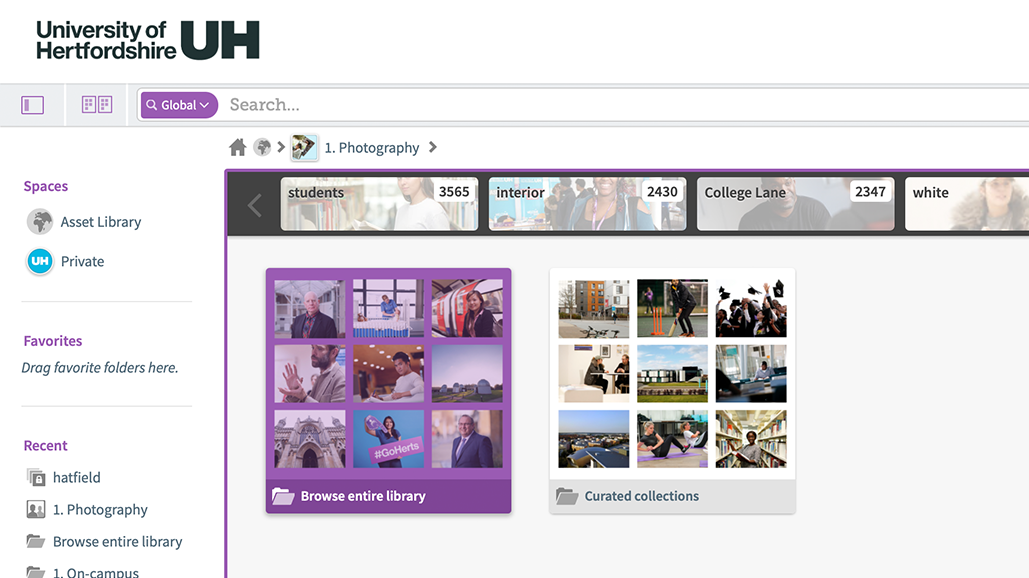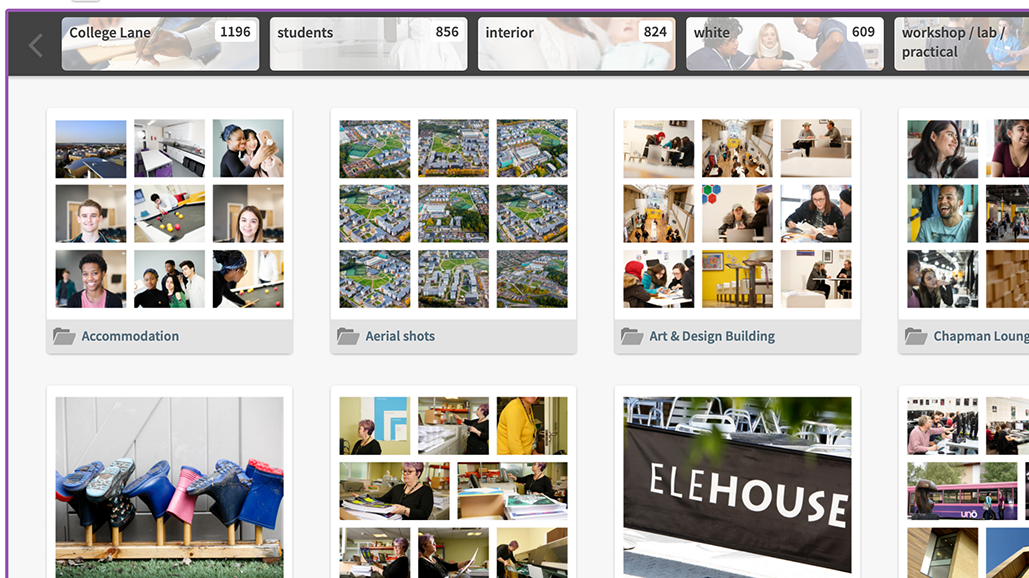 Curated collections
We've curated collections based on common search terms or frequently requested image types. So with a few clicks, you can explore images of, for example, students from BAME backgrounds, students feeling empowered or students engaging in sport and exercise, no matter where on campus the images were taken.
To access our curated collections, double click 'Photography' and then 'Curated Collections'.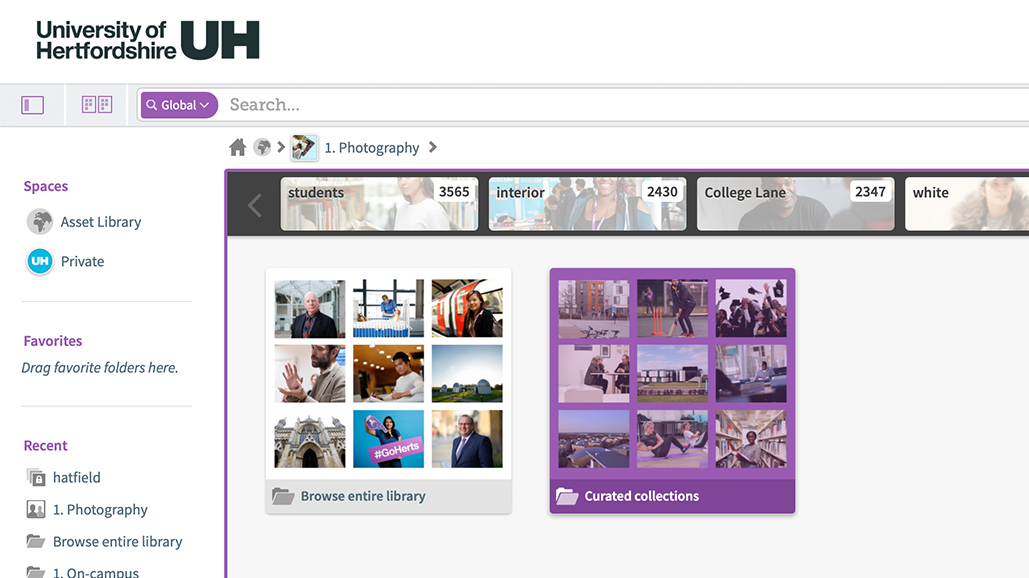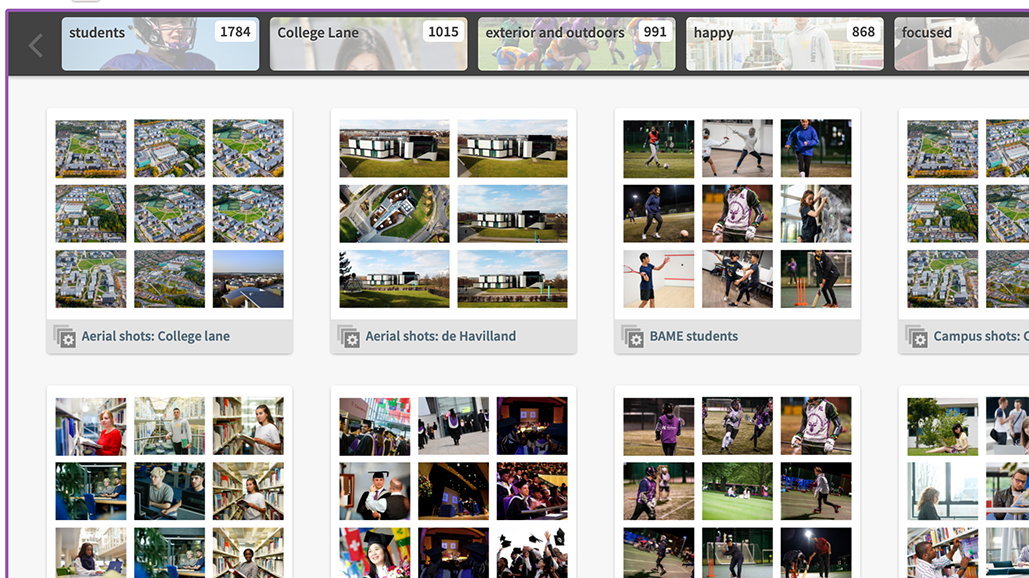 Uploading images
In order to deliver only the best content, our Asset Library is fully curated by our Studio team, and we're continuing to commission refreshed photography to enhance our collection.
If you have photography you feel should be shared with the rest of the University, please email studio@herts.ac.uk.
Downloading images
There are a couple of ways to download assets. Please note that if you have navigated to an image using our Curated Collections, you will need to click 'Show Original' after selecting your chosen image.
Download original image
Downloading an original will give you the image at its full resolution and file size. Original images are ideal for printing, but are not optimised for the web.
To download a single image at it's natural size and resolution, double click the image, click the cloud icon to the bottom of the screen and ensuring the preset is set to 'Original' click the purple download icon. This will take you to your download queue, where you can see your previous downloads too.
To download multiple files, single click each image you want to download, and click 'Download' then 'Original' in the selection pane to the right of the screen.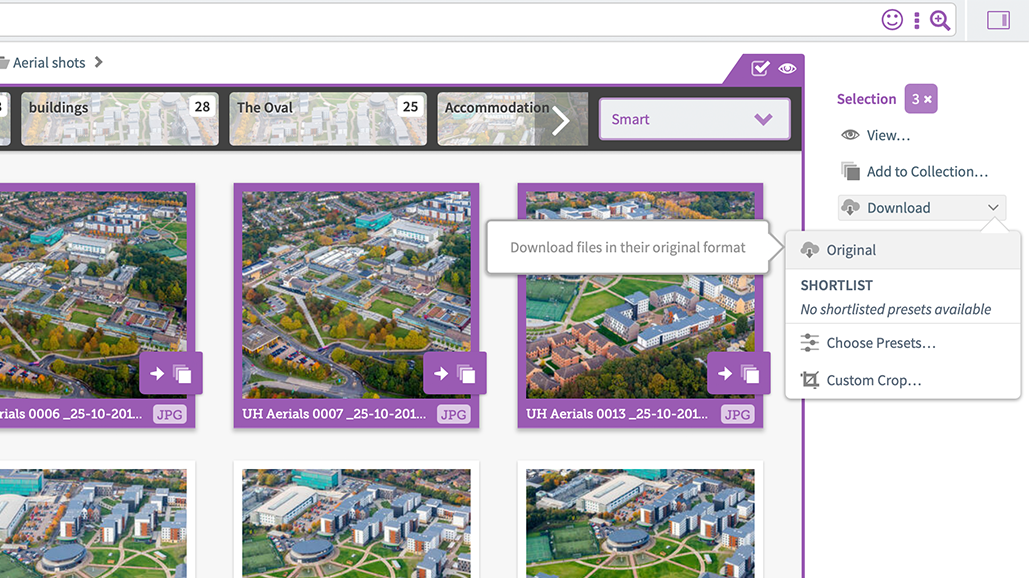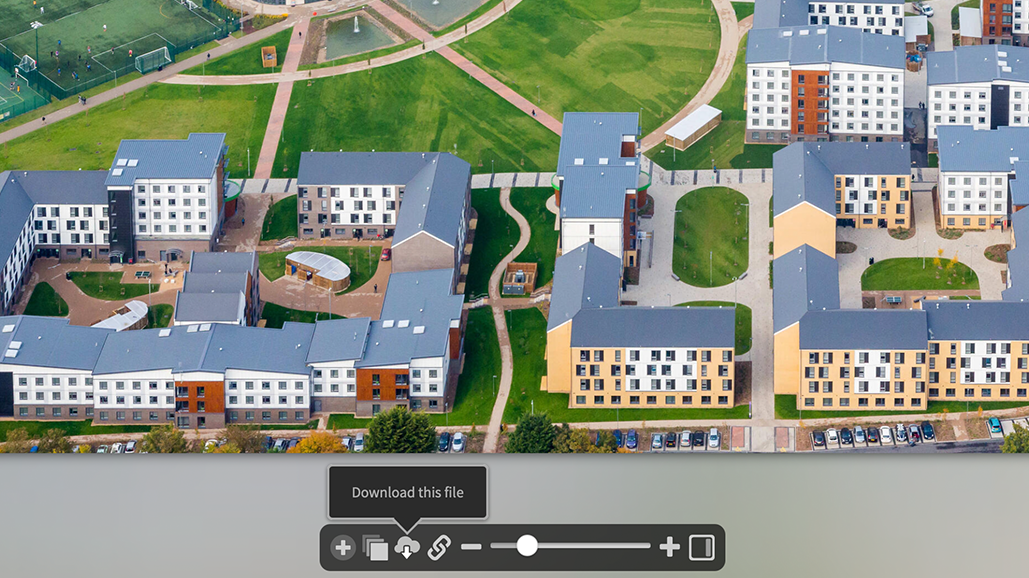 Download to size
In order to ensure every image always looks its best, we've built in a range of preset download sizes for common uses. For example, you can easily crop, adjust and download an image perfectly sized for a website hero or an Instagram post.
To download a single image at a preset size (for social media or our website, for example) double click the image and click the cloud icon to the bottom of the screen. You will then be able to enter custom pixel dimensions, or select one of the presets from the dropdown menu. You can move the image in its frame by dragging it, and zoom in by moving the horizontal slider to the right. Once you have positioned your image, click the purple download button.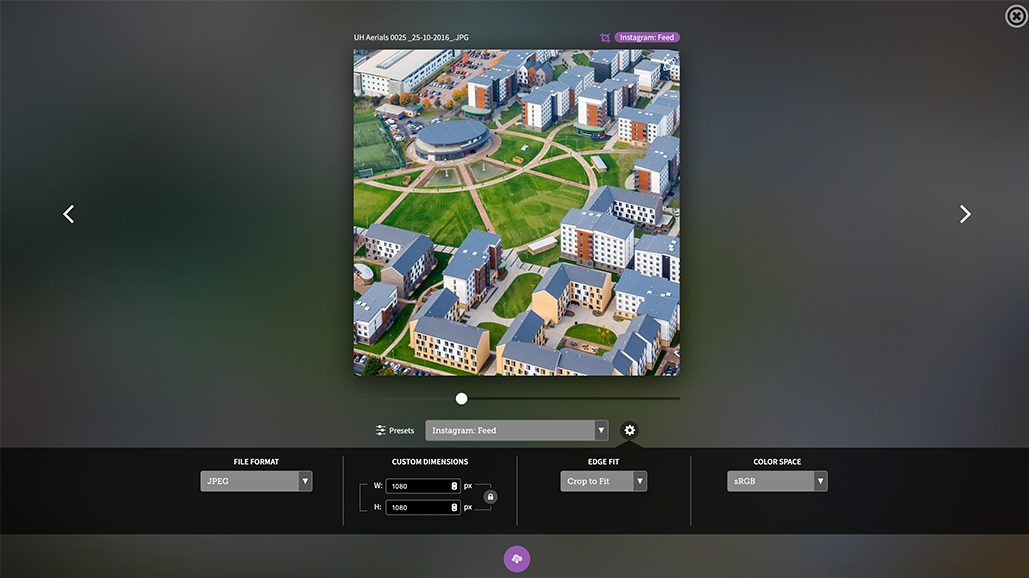 Sharing images
The ability to share images with colleagues and external partners is key to ensuring we're always using the best content available. There are a number of ways you can share images within the Asset Library, and you need to choose the right one depending on who you are sharing with.
Sharing a folder (colleagues only)
To share an entire folder of images, hover over the path bar underneath the search field, and click the clipboard icon. This will copy the folder path, allowing you to paste this into an email or message. Note that this method only works for those with access to the Asset Library.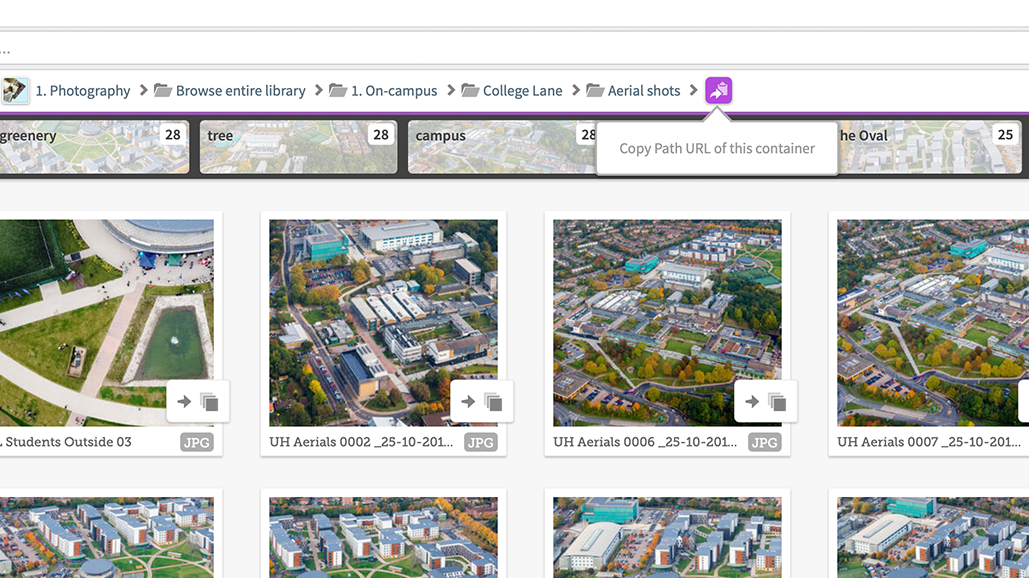 Share selected images (to anyone)
Select the images you wish to share by clicking them one at a time, then click 'Share' then 'As Link' in the selection pane to the right of the screen. You'll need to give your link a name, and can choose to either create a public link which you can paste in a message or email the link to a specified email address. Note that links sent to a specificed email address cannot be forwarded on, so in most cases, a public link is best.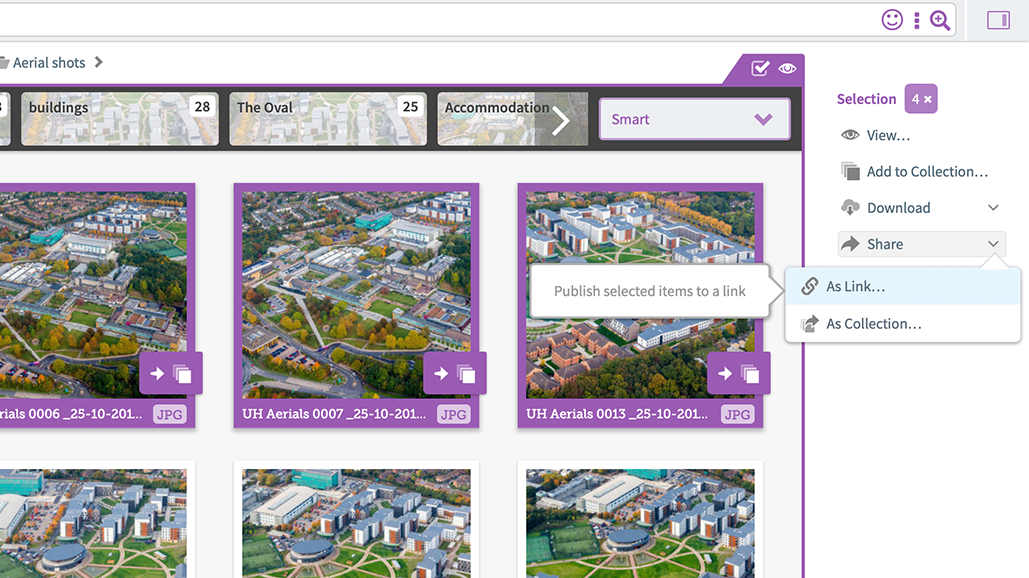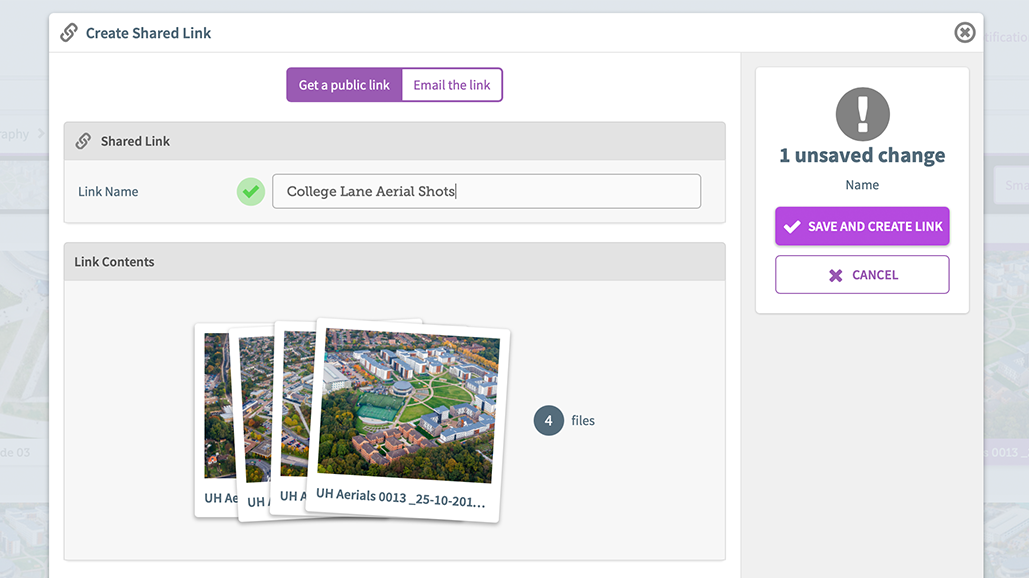 Create a shared collection (to colleagues only)
Sharing a collection allows you to place a curated group of images in someone else's private space. You can only share a collection with colleagues who have logged into the Asset Library before. Select the images you wish to share by clicking them one at a time, then click 'Share' then 'As Collection'. Give the collection a name, and drag your colleague's name from the left pane to the 'Share with' panel.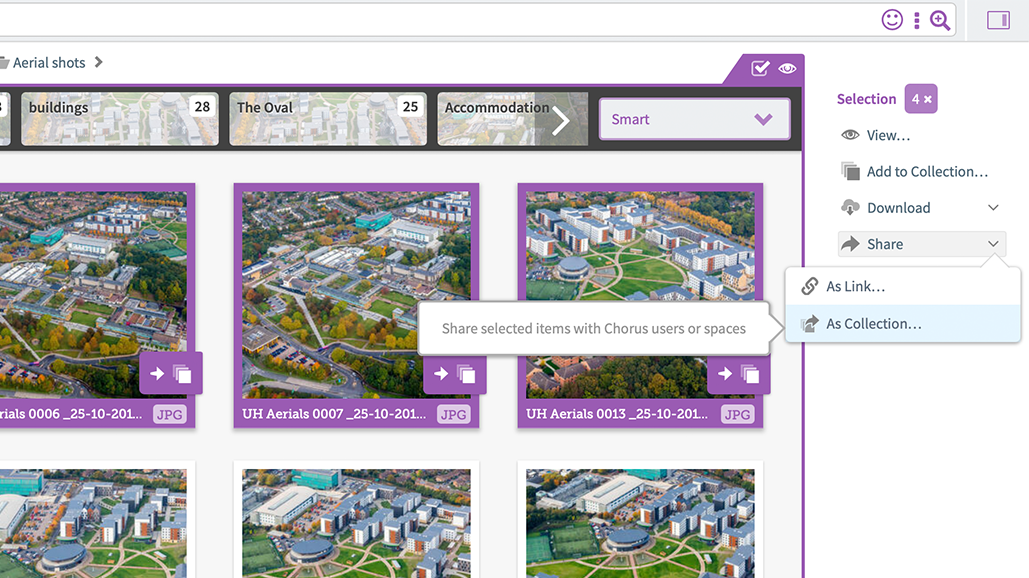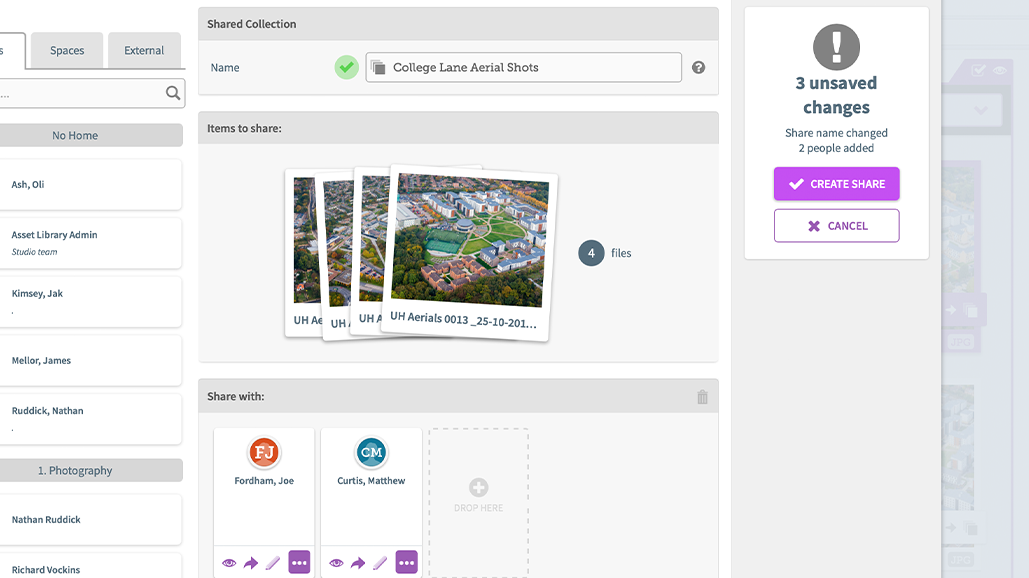 Creating collections
Users of the old Image Library may be familiar with Lightboxes – collections of saved images you can download at a later date. In the Asset Library, these are called Collections, and work in a similar way.
To create a collection, select the images you wish to add, and in the panel to the right, click 'Add to Collection'. In the next screen, click the house icon, then 'Private' then click 'Open'. You can now choose 'Create Private Collection', and give it a name. You'll find this collection in your private space later.
Other users can't see your collections, but you can share the content of them by following the 'Share selected images' guidance.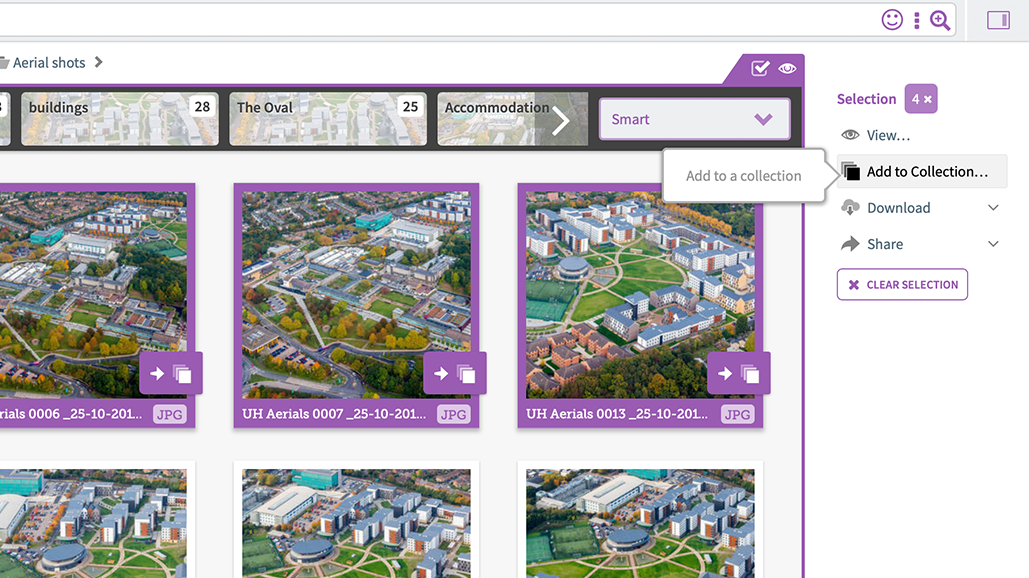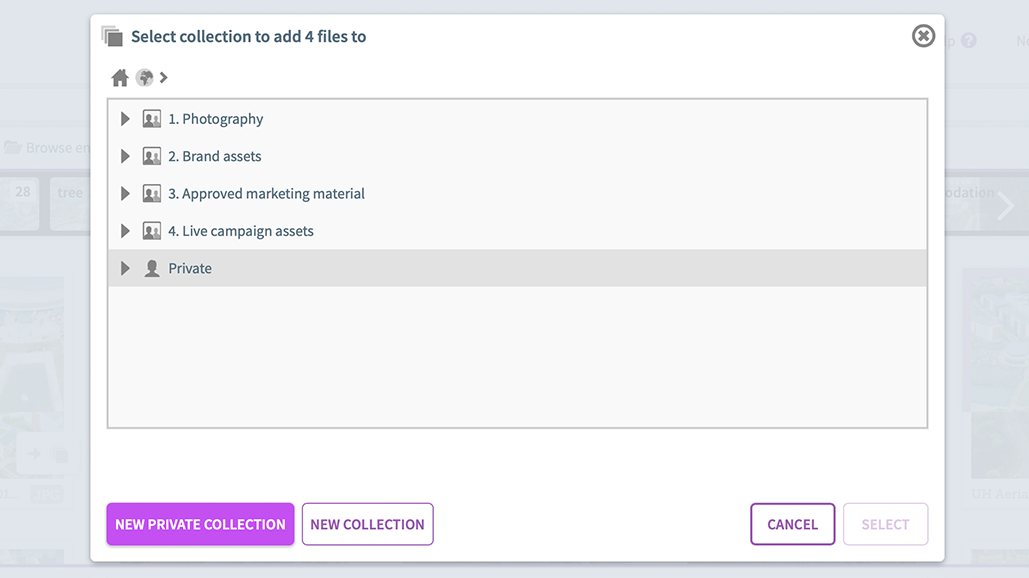 Related Guidance
Get in touch
If you have any questions please contact a member of the team: