Vice-Chancellor's Awards 2016
Across the University, individuals and teams put an enormous amount of effort into realising our values, mission and strategy.
If you know someone who merits recognition, nominate them for a Vice-Chancellor's Award. These awards celebrate people who have credibility and integrity in their work and their working relationships. They may be drawn from any 'level' or area in the University.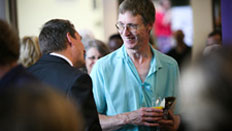 Our panel of Judges are made up of representatives right across the University's Schools and departments...
Read more about the judges