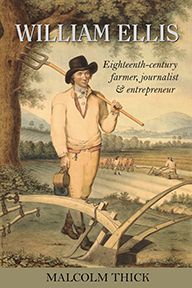 About the book
"Malcolm Thick's summaries are a very useful starting point for anyone wishing to delve into Ellis's writings." Susanna Wade-Martins, Historia Agraria
"[A] fascinating volume…" Paul Gaskell, Oxfordshire Family Historian
"This excellent, informative study of William Ellis and his publications will be of interest to historians of eighteenth-century farming and cookery, and, of course, Hertfordshire." Heather Falvey, The Local Historian
"In 1772 the editor of an abridged edition of Ellis's books praised his good work in areas such as new crops and manures but deprecated the many pages of repetitive rubbish. Thick clears a path through the dross to provide a succinct synthesis of Ellis's worthwhile contributions to farming literature." John Broad, Agricultural History Review
William Ellis, who lived and farmed at Little Gaddesden in Hertfordshire in the first half of the eighteenth century (d. 1759), is an important figure in English agricultural history. In his time the most prolific writer on agriculture in England, his many works were read not only at home but also in the American colonies and continental Europe. Ellis was essentially an agricultural journalist, then a relatively new occupation. He wrote about his own life as well as those of the ordinary people of Little Gaddesden and further afield – he travelled extensively throughout the southern half of England. Most of his copy was derived from conversations he had had with farmers, their wives and other rural folk, the sheer immediacy of his books outshining those of his rivals.
Ellis's style was discursive, particularly so in The Country Housewife's Family Companion (1750). As well as providing a compendium of household management, cookery and medicine, Ellis delighted in relaying gossip. He included the activities of farmers, wives and maids, labourers, travellers and beggars, as well as the gentry and aristocracy, rich pickings for social historians.
More about the book

Ellis also used his books to advertise his business as a supplier of agricultural instruments, seeds, plants, trees and fowls, an innovative approach. The Swedish botanist Pehr Kalm visited Little Gaddesden in 1748 to inspect Ellis's farming and the various farm implements he advertised for sale. The two men didn't warm to each other, but Kalm's independent observations add to what we know about Ellis.

Piecing together the scant facts about Ellis's early life, Malcolm Thick has uncovered new information on his time before he commenced farming, and unravelled some of the complexities of his two marriages. The book's central focus is on Ellis's agricultural writings, which provide a fascinating picture of rural life in the period and shed light on the evolution of English farming. This is the first book about Ellis for over sixty years and the first to consider him fully in the round – as a farmer, an active member of his community, an innovative salesman and a wonderfully curious mind.

Read a sample chapter

About the Author/s:
ISBN: 978-1-912260-49-2 Format: Paperback, 224pp Published: Jun 2022
Any questions
Contact us at UH Press if you have any queries or would like to find out more about this book.