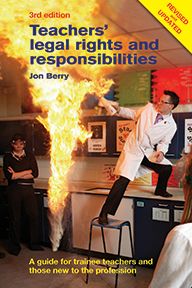 Teachers' Legal Rights and Responsibilities
A guide for trainee teachers and those new to the profession
Author: Jon Berry
Price: £4.99 £3.74 (free p&p)
"
"It's the myth-busting that makes this book so refreshing and authoritative. In 50 pages it gives you the real story on all those areas you worry about, including school trips, discipline, child abuse and special needs. The cover is one of the funniest I've seen on an education book."
About the book
This newly revised edition considers the emerging phenomenon of cyber bullying and the wider effects of the digital age.
An essential guide telling trainee teachers all they need to know about UK law as it affects them professionally
Approved by the National Union of Teachers
Friendly, accessible yet authoritative advice
Illustrated throughout with specially commissioned cartoons by Independent cartoonist Tim Sanders.
Topics covered include:
Professional duties
Out-of-school activities
Health and Safety
Physical contact with children
Discipline
Protecting children from abuse
Competence and disciplinary procedures
Special educational needs
ISBN: 978-1-909291-09-6 Format: Paperback, 64pp Published: Apr 2013
Any questions
Contact us at UH Press if you have any queries or would like to find out more about this book.