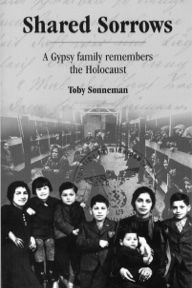 Shared Sorrows
A Gypsy family remembers the Holocaust
Author: Toby Sonneman
Price: see vendor
"
"A touching collection of Holocaust memories that builds a bridge between the Gypsy and Jewish experiences."
Ebook formats
About the book
"This riveting, sometimes quite graphic, well-written book... is an essential purchase for college, public and research libraries" Martin Goldberg, AJL Newsletter
"tough, sad, truthful... an extraordinary untold story" Grace Paley
"A great piece of oral history and an excellent addition to the body of Holocaust literature" Jane Victor, Counterpoise
On the morning after Kristallnacht, Toby Sonneman's father walked through broken glass to apply for the visa which saved him from the fate of so many during the Third Reich.
In examining her own family history, the author discovered the similarities between the fate of the Jews and the Gypsies, both peoples selected on racial grounds for extermination by the Nazis.
Sonneman travelled with an American Gypsy survivor to Munich where she stayed with the formidable Rosa Mettbach.
This beautifully written book introduces Rosa and other members of an extended family who survived the Holocaust, interweaving the story of a Gypsy family with that of a Jewish family, shedding light on their shared sufferings.
ISBN: 978-1-902806-10-5 Format: Ebook, 296pp Published: Oct 2002
Any questions
Contact us at UH Press if you have any queries or would like to find out more about this book.