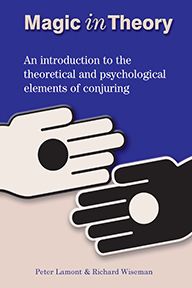 Magic in Theory
An introduction to the theoretical and psychological elements of conjuring
Author: Peter Lamont, Richard Wiseman
Price: £12.99 £9.74 (free p&p)
"
"Magic in Theory is charmingly clear, admirably erudite and highly readable. The chapters are gently authoritative without being numbingly complex ... Highly recommended."
About the book
"Very useful as a way into the minds of magicians" Journal of Parapsychology
Magic, properly performed, is a complex and skilful art and is capable of deceiving almost everyone, but magicians are understandably reluctant to reveal their methods: magic is also a secretive business. However, there is more to magic than the specific secrets behind specific tricks.
Psychology is central to the art of deception and an important part of being an effective magician. Psychologists have studied magic for over a century, whilst parapsychologists have also understood that conjuring techniques have been used to fabricate paranormal phenomena.
This book presents the theoretical and psychological elements of magic in an accessible way. It will provide magicians with a better understanding of the part psychology can play in developing their skills. Drawing on exclusive interviews with many top magicians, Magic in Theory gives insights into how performers put these ideas into practice.
ISBN: 978-1-902806-50-1 Format: Paperback, 192pp Published: Jul 2005
Any questions
Contact us at UH Press if you have any queries or would like to find out more about this book.