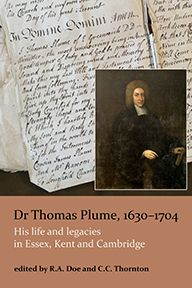 Dr Thomas Plume, 1630–1704
His life and legacies in Essex, Kent and Cambridge
Editor: Christopher Thornton, Tony Doe
Price: £18.99 (free postage)
"
"This is a model biography which illuminates its subject by examining his life as a student, a cleric in testing times, an acquirer of property, a book lover and a writer of a complex will benefitting a wide range of charities. He was a modest, almost self-effacing, philanthropist, deeply concerned with the education of the poor, the improvement of clergy, and the relief of their widows. This book makes very thorough use of the available sources and – where these are scanty or lacking – provides carefully qualified interpretations. Throughout it provides the contextual background for the period. Above all, it gives a full account of Dr Thomas Plume's life and times, and – should one meet him by lucky chance in Maldon High Street – he would be immediately familiar to those who have read this excellent book."
About the book
"The contributors are foremost experts in their field and have covered all matters Plumian – his legacies, his family, his character, his will, his trust, the library collection, the building in which it is housed, Kent connections and the continuing professorship at Cambridge. It is an outstanding collection and literally covers the good doctor's life from cradle to grave, as well as all the things that have come down to us today." Stephen Nunn, Maldon and Burnham Standard
"The volume is well-illustrated with sixty-seven monochrome images, and a coloured portrait of its subject on the front cover. The essays are written by specialists in their respective fields and are well-referenced. The work is equipped with appropriate bibliographical apparatus in the form of a comprehensive bibliography, a detailed index, and an appendix transcribing Plume's long and complicated will. Hence it presents a fitting memorial to the man and his library." David Stoker, Library and Information History Journal
Dr Thomas Plume, born in Maldon in Essex in 1630, is remembered today for the many bequests he left which established important scientific, religious and cultural charities. Still operational today are the Plumian Professorship of Astronomy at Cambridge University, the Plume Library at Maldon and the Plume Trust for poor clergy in the Diocese of Rochester.
This volume provides the first comprehensive account of the life, work and philanthropy of Plume. Educated at Chelmsford Grammar School and Christ's College, Cambridge, Plume was vicar of Greenwich from 1658 and archdeacon of Rochester from 1679, holding both posts until his death in 1704. At Greenwich he was noted favourably for his preaching by Samuel Pepys and John Evelyn on more than one occasion. He died a wealthy man and his will contained 79 bequests.
More about the book

Plume's famous library at Maldon still houses some 8000 books and pamphlets as well as his pictures and manuscripts. The book collection, forming one of the largest private libraries of the period, is an important resource for understanding the Enlightenment, whilst the manuscript collection reveals Plume's intellectual roots in the religious, philosophical and political debates of the mid-seventeenth century. The landmark building itself, a partly converted and rebuilt medieval church, is an important example of a late-seventeenth-century purpose-built library.

As vicar of Greenwich, archdeacon of Rochester and prebendary of Rochester cathedral, Plume had equally strong links with Kent, owning an estate at Stone Castle, Dartford. In Cambridge the chair he endowed for 'a learned and studious Professor of Astronomy and Experimental Phylosophy' has been held by many notable scientists including Fred Hoyle and Martin Rees.

In contextualising Plume's bequests within the intellectual world of the late seventeenth century, the book reveals the connections between his philanthropy and his family background and education, his wealth, career and patrons, his churchmanship and his character.

Having lived through significant political, religious and intellectual tumult and debate, Plume's life and bequests provide valuable insights into the concerns and actions of an Anglican clergyman during a period of rapid change. His enduring legacies have continued to support the church, the poor and education for over three centuries.

Read a sample chapter

About the Editor/s:

---
ISBN: 978-1-912260-16-4 Format: Paperback, 328pp Published: Dec 2020
Any questions
Contact us at UH Press if you have any queries or would like to find out more about this book.