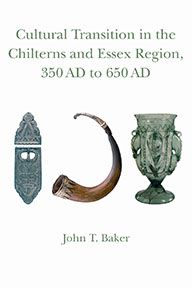 Cultural Transition in the Chilterns and Essex Region, 350 AD to 650 AD
Author: John T Baker
Price: see vendor
"
"John Baker's study considers, in a balanced and open way, the challenges of using different sources to address the complex and hotly-debated period of social and cultural change between the 4th and 7th centuries A.D. ...a valuable addition to regional studies of this period of transition."
Ebook formats
About the book
Though it is difficult to demonstrate unbroken occupation of Romano-British sites throughout the period, the continued existence of British communities in most of the region has been shown by topographical evidence and by the existence of place-names demonstrative of Old English contact with pre-English communities.
The distribution and density of Germanic archaeological remains vary considerably within the region, such that it is unlikely that there was only one predominant process by which Germanic culture was introduced to it. This highlights the danger of making generalised statements on the nature of interaction between people of British and Germanic culture in this period.
The transition from Romano-British to Anglo-Saxon material culture is likely to have been the result of a combination of different processes.
More about the book

The distribution of supposedly early Old English place-name elements suggests that, contrary to orthodox opinion, they are not particularly useful indicators of early Germanic influence in a detailed study of this kind.

Moreover, some elements traditionally thought to be relatively unimportant may belong to an earlier stratum of place-name formation, and some revision of theories on place-name chronology is necessary.

About the Author/s:
ISBN: 978-1-902806-53-2 Format: Ebook, 304pp Published: Jun 2007
Any questions
Contact us at UH Press if you have any queries or would like to find out more about this book.