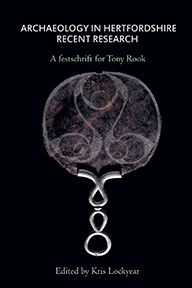 Archaeology in Hertfordshire
Editor: Kris Lockyear
Price: £20 (free postage)
"
"This is an excellent volume, produced to very high standards and consistently well-written, wearing its undoubted learning lightly. It is pitched at interested members of the public, and many of the contributors propose and develop really interesting ideas, while also providing excellent methodological sections which constitute very good introductions to topics such as geophysical survey, ridge and furrow, and Optically Stimulated Luminescence (OSL) dating for pottery. The text is complemented by a large number of good quality images (enlivened by one of a digger who appears to be naked!). This is... a volume which I really enjoyed reading, whose case studies I found interesting and whose ideas deserve a wide readership."
About the book
"This volume is copiously illustrated with line drawings, supplemented by a section of colour plates, and the production is of a very high standard." Celia Gould, Friends Forum
Hertfordshire has a rich heritage of archaeology and of archaeological research. The Iron Age remains at St Albans, Wheathampstead and Braughing are well-known, as are the Roman town of Verulamium and the villa sites at Lockleys, Dicket Mead and Park Street.
The heritage of other periods is less well-known, although recent research, originally by local groups such as the Welwyn Archaeological Society (WAS) and more recently by professional field units in advance of development, is filling in the gaps.
More about the book

This volume celebrates the close collaboration of professional archaeologists and highly skilled avocational groups that is a hallmark of archaeology in Hertfordshire.

It grew out of a conference organised by WAS to recognise the achievements of its founder, Tony Rook, on his eightieth birthday.

The fifteen papers focus on various aspects of the archaeology of Hertfordshire, from the Neolithic to the post-Medieval periods, and include a report on the important excavations at Norton.

Several chapters focus new attention on the Iron Age and Roman periods, both from a landscape perspective and through detailed studies of artefacts, whilst a discussion of the rare early Saxon material recently excavated at Watton at Stone makes a vital contribution to our knowledge of this little-understood period.

All of the papers in the volume follow Tony Rook's example by linking a focus on the local scene with an understanding of wider issues in each period.

Tony Rook and his wife Merle came to Welwyn in 1960, and with a team of dedicated volunteers, they founded the Welwyn Archaeological Society and set to work recording and excavating threatened sites throughout central Hertfordshire, including the Roman bath house at Welwyn – at a time when archaeology had very little statutory protection and even less funding.

Tony ran the Welwyn Archaeological Society until 2009 and is the author of many books on the county including A History of Hertfordshire.

Read a sample chapter

About the Editor/s:
ISBN: 978-1-909291-42-3 Format: Paperback, 384pp Published: Sep 2015
Any questions
Contact us at UH Press if you have any queries or would like to find out more about this book.